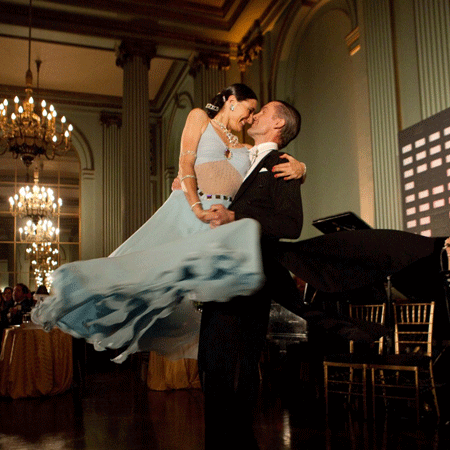 Ballroom Duo
A ballroom duo who have a wealth of experience competing in huge competitions as well as dazzling audiences in exciting showcases
Standing 6ft 8" and 6ft this tall couple perform the waltz, tango, foxtrot, quickstep, Viennese waltz, salsa, merengue and more
Our ballroom dancers are four times and current United States Amateur Senior ballroom and Latin champions
Represented the United States at the World Championships in Mallorca, Toronto and Belgium
Based in Richmond California and available for worldwide bookings
Our stunning ballroom duo dazzle audiences with their exciting routines, glistening costumes and versatile performances. Standing at 6ft 8" and 6ft this tall couple ignite the stage with their elegant and high energy routines. Whether you desire ballroom dancing, swing dance or a comedy act with singing and dancing, our dancers offer a fantastic range of performances to suit your event!
Having performed for a wide range of audiences they have become known for their entertaining dance style, glamorous costumes and versatile routines. Regularly performing the waltz, tango, foxtrot, quickstep, Viennese waltz, salsa, merengue, chacha, rumba, samba, paso doble, jive, swing, Lindy hop, jitterbug, disco and rock n roll – you will struggle to find a dance that this duo cannot do.
Our ballroom duo have performed 10 original pieces with Grammy Award wining composer and conductor Victor Vanacore and the St Louis Symphony in his 'Swing Swing Swing' programme. With countless standing ovations and praise from their audiences these marvellous dancers have also performed as swing dancers in the PBS swing documentary 'Big Band Magic'. 
In addition to appearing on PBS this ballroom duo flew to New York with NBC to perform as ballroom dancers with their comedy tango routine which appeared on NBC's America's Got Talent Season 8.
The four times and current United States 1 ten dance ballroom and Latin champions our brilliant dancers also represented the United States at the World Championships in Mallorca, Toronto and Belgium. With a wealth of experience and talent our dancers offer multiple styles of performance whether it be ballroom, swing, comedy or international, which can be tailored to suit every occasion.
To book our ballroom duo or for more information, contact our Entertainment Specialists.