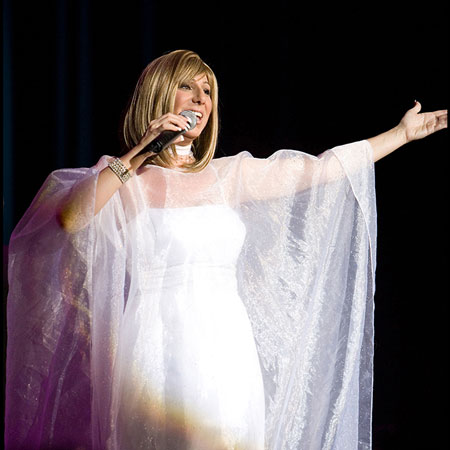 Barbra Streisand Impersonator
Brilliant Barbra Streisand tribute provides the ultimate live music entertainment
Incredible musical production featuring all the legendary diva's greatest hits
Barbra Streisand impersonator perfectly captures the look and sound of the infamous Babs!
Tribute stage show ideal for gala dinners, festivals, ceremonies, parties, etc.
Celebrity lookalike available to hire for events in Las Vegas and across the US
Barbra Streisand Impersonator PHOTOS
Promising you an absolutely unforgettable event with her tribute stage show, our Barbra Streisand impersonator will delight your guests as she delivers phenomenal live music entertainment. A professional celebrity lookalike who has meticulously crafted her act to ensure total accuracy in both look and sound, our Barbra Streisand tribute is certain to wow both seasoned Streisand fans and new listeners alike with her wonderful performance!
An experienced performer, this talented Barbra Streisand tribute will take audiences on a captivating journey through the legendary diva's long-spanning career, including everything from 60s Broadway numbers and 70s disco hits through to favorite 80s movie classics. With her repertoire including such beloved songs as 'Don't Rain on My Parade', 'The Way We Were', 'Evergreen', 'Woman In Love', 'Somewhere', and 'People', our celebrity lookalike and soundalike delivers sensational rendition after sensational rendition, and is sure to appeal to all with her incredible voice and charming stage presence.
Acclaimed as the very best tribute artist, our Barbra Streisand impersonator offers a very precise interpretation of the entertainment icon. Recognised as both the Queen of the Divas and as one of the best-selling artists of all time, Barbra Streisand is considered a leading figure in multiple fields for her work on stage, screen, and beyond, and our spectacular performer will bring this star presence in abundance to your event with her tribute stage show. Thanks to her staggering vocal range of over three full octaves, her uncanny resemblance, and her spot-on imitation of Streisand's distinctive tone, our professional impersonator will have guests at your special occasion really believing they've spent an enchanted evening with Babs herself!
Audiences will laugh, cry, and sing their hearts out to this unmissable live show, with the uncanny Boston accent, slew of gorgeous gowns, and unmistakeable Jewish humor adding the all important finishing touches to our Barbra Streisand tribute's performance. Ideal for gala dinners, awards ceremonies, themed events, private parties, festivals, and more, our tribute stage show is available to book for events in Las Vegas and throughout the US. To find out more about the live music entertainment we can offer, contact our specialists today.