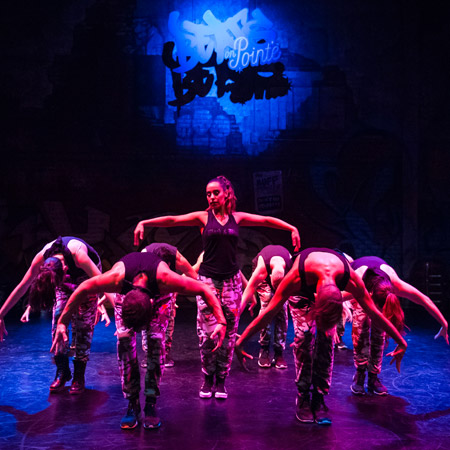 Beats Dance Stage Show
A rich cabaret stage performance showcasing professional dance and music - you will wish this act would never end
Modern and old school street dance and ballet, this lively production narrates the story of 2 opposing worlds drawn together by their love of dance
Featuring a full cast of 12 performers, our cabaret dance show can adjust the number of dancers to suit your event size
With a superb musical score, vibrant costumes & lots of on-stage fun, drama, comedy and feel-good moments
Book Beats Dance Stage Show for events in Australia and internationally
Beats Dance Stage Show PHOTOS
Global booking agent Scarlett Entertainment is proud to source and supply superb dance and theatre acts for events worldwide. Beats Dance Stage Show is a vibrant cabaret dance show featuring high impact modern and classic dance styles. Based in Australia, this dance act is able to tour worldwide. Starring multi-skilled street and ballet dancers, this wow factor stage show is so much more than a mere dance act. Featuring live music and vibrant costumes this ballet production and street dance draws audiences in with striking staging. This street dance and ballet production invites audiences into a captivating world of love and opposing dance worlds.
An edgy show for audiences of all ages, this act will have your guests gripped from the moment it starts. Fully choreographed and utterly pleasing to the eye,  the show invites viewers to get to know a world in which dance is the main language. Showcasing a range of dynamic styles including jazz, contemporary, ballet and street, the varied act is sure to enthral any audience. Telling the story of opposing dance styles, this feel-good dance show draws audiences into a world full of fun, laughter and unforgettable expressive dance routines. 
With up to 12 street dancers, this variety ballet and street dance production can tailor its act to your event size or budget. Offering 90 minute sets, clients can ask for shorter or longer performances if needed.  Including vivid costumes and a striking music score, our cabaret dance show creates an entrancing world for viewers.
Having toured throughout Australia, dancing at venues like The Lighthouse Theatre, Gasworks Arts Park and Geelong Performing Arts Centre, our skilled artists know how to bring their shows to life. Ideal for galas, festivals and cabaret evenings, this sparkling act is sure to bring something totally new to your event. To learn more about hiring Beats Dance Stage Show, please speak to our helpful team at Scarlett Entertainment today.
Darebin Arts Centre
Gasworks Arts Parks
Hobart Theatre Royal
Wonthaggi Community Arts Centre
Her Majesty's Theatre Adelaide
The Main Theatre Frankston
The Lighthouse Theatre
Paramount Performing Arts Centre
West Gippsland Arts Centre
The Cube Wodonga
Geelong Performing Arts Centre
Ullumbarra Theatre
& many more
Wangaratta Performing Arts Centre
" I accompanied my wife and thought I would just be surfing the internet on my phone. I didn't at all! I grooved and couldn't take my eyes off the stage. I loved this show! "

Jeremy (Gasworks, Melbourne)
" I have seen it 4 times! "

Fiona (Gasworks, Melbourne)
" I was on a natural high for two days. This is the third time I have seen the show! "

Julia ( Geelong Performing Arts Centre, Victoria)
" The show itself is an action-packed roller coaster of old and new school street dance, classical and contemporary ballet, physical comedy, beat boxing, and even some singing! To call this a "dance show", is to sell it short – this piece is a theatrical extravaganza. "

Matt McFarlane, aussietheatre.com