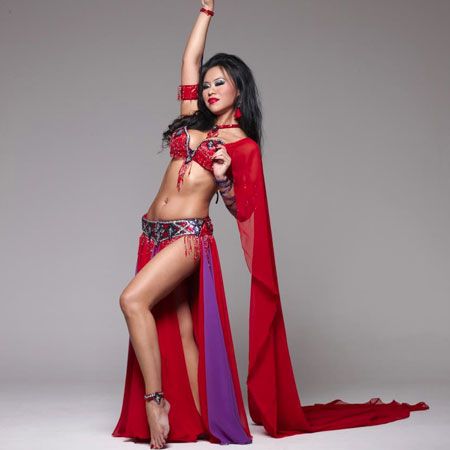 Belly Dancer Singapore
Wow your guests with this mesmerizing & engaging bellydance performer
Performs fusion style bellydance (BellyBurlesque or Afro-Jazz Bellydance)
Teams up with illusionist/fire artist for a unique Magic & Bellydance show
Performed at Qatar Airways launch of Tokyo stopover in Japan
Based in Singapore & available to perform at events throughout Asia
Belly Dancer Singapore PHOTOS
A performing arts professional with over a decade of experience in the art of bellydancing, Angelina has routinely demonstrated the passion, vision, dedication and diligence necessary to be mentioned among the elite. As a result of her outstanding body of work, Angelina has earned recognition in the exclusive network of premier professionals with Stanford Who's Who.
Employing her extraordinary abilities in the arts as well as her sensational stage personality, Angelina specializes in performing professional bellydance shows for a variety of corporate and private events. She also performs every weekends at the classy Levant Middle Eastern Restaurant at 8 Greenwood Avenue and the Shabestan Persian Restaurant at robust Robertson Quay Singapore. 
One of the most sought after bellydancers in Singapore, she has performed at several prestigious events, including the Singapore Lyric Opera President Charity Gala, the Esplanade Dan's Festivals, and Qatar Airways launch of Tokyo stopover in Japan. Angelina was even a top ten finalist in the Miss Singapore Universe pageant in 2007.
Experienced and entertaining, Angelina does regular and once-off bellydance performances for restaurants, night spots, private parties, community events and corporate events. A big staged event or a cosy little party, you can be sure that Angelina will liven up the occasion and wow your guests with her mesmerizing and engaging bellydance performances.
" When I watch Angelina perform, she instills so much grace, charm and sex appeal like no other. Her dance is energetic but yet feminine. Her choreography is intricate and moving. Once she starts, you can't take your eyes off her. She's like a sensual magnet drawing you into her dance! "

Anne Weerapass, Vocalist
" Immaculately moves her physique to the rhythm of her dance and most importantly she dances with her heart... That is Angelina for you. "

Fendi Sahid, Vocalist
" It's always a pleasure to watch Angelina dance - excellent technique, superb choreography, engaging showmanship, charismatic charm - She's got it all. And to top all that, she dances with her heart! "

Claribel Ng, Master Teacher in Middle Eastern Dances