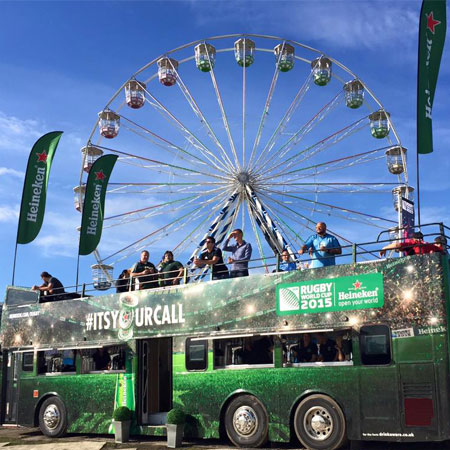 Branded Event Bus
Ensure your brand makes a visual impact with our striking branded event bus
Pop-up bus bar offers a great way for your brand targeting your chosen market
We can provide promotional additions such as promo staff, accessories, tables and chairs or games to compliment your promotional activity
The ideal mobile catering solution for a themed event to remember
Impress you party with a pop up bus bar, delivering the perfect visual prop for your customised entertainment in the UK
What better way to see your brand targeting your chosen market than with a fabulous pop-up bus bar? Delight your guests with a our branded Routmasmter bus that acts as the perfect pop up bar. Ensure your message is delivered to your crowd whilst making a visual impact with our striking Branded Event Bus. 
Our buses can be branded in traditional London Transport style boards, either full or partly wrapped in vinyl, or bannered to your individual requirements. We can provide promotional additions such as promo staff, accessories, tables and chairs or games to compliment your promotional activity!
Whether your'e hosting a private party, corporate occasion or festival or have an exciting brand reveal or exclusive launch in mind, our iconic Routemaster bus will deliver the ideal mobile catering solution for a themed event to remember. 
Our exclusive branded event bus presents a stand-out bar service and decorative prop in one. Custom-Designed to ensure your company branding, logo and colours make an impact on your guests. 
Impress you party with a pop up bus bar, delivering the perfect visual prop for your customised entertainment in the UK
Practical Tips 
A pop up bus bar branded in traditional London Transport style boards, full of partially wrapped in vinyl, or with banners to suit clients requirements
Additional options include promo girls, accessories, tables and chairs or games to compliment the promotional activity
Staff can wear branded clothing
Flags, umbrellas and other marketing equipment can all be displayed in conjunction with the bus
The upper deck can also be used to put forward company logos with a TV system
A branded champagne bottle service can also be offered
We also have a point of sale advertising screens, public facing on both sides of the bus for promotional logos, brands or videos
Buses can be fully wrapped or branded in a more traditional manner, depicting London Transport Heritage
Sponsorship of certain events is available
Sponsorship of drink brands and event add-ons possible
Contact us at Scarlett Entertainment & Events today to talk about booking our Branded Event Bus for your corporate team day or personalised event.