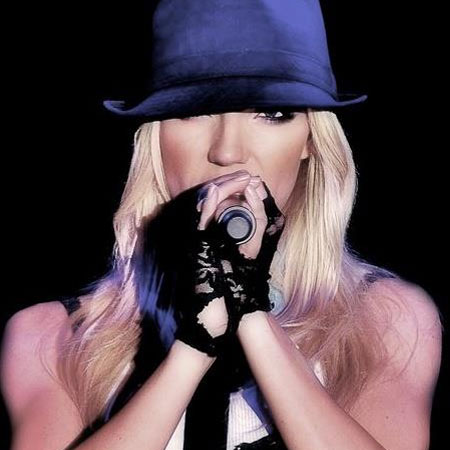 Britney Spears Impersonator
Vocals & stage presence bears a striking resemblance to the pop princess
Toured all over the US as Britney with the famous Legends In Concert show
Performed live on hit TV show Ellen Degeneres
Can be booked for corporate events, private parties, meet & greets...
Based in Las Vegas, Nevada & available to perform across the US
Britney Spears Impersonator PHOTOS
This Las Vegas based Britney Spears look-a-like and sound-a-like has travelled all over the US with the famous Legends In Concert show for 4 years.  Singing LIVE in all of her shows, Katie's performances have time and again shown the crowd how and why she is revered for her ability to reproduce Britney Spears's act.  
She joined the world famous "Legends in Concert" show in 2006 at the ripe young age of 22, and has gone on to perform as a "Legend" on the Ellen Degeneres show in November of 2006. She has toured with Legends in Las Vegas, Atlantic City, and Branson Missouri, and Norwegian Cruise Line ship, The Epic.
Katie has also performed in Chicago, Texas and all around Las Vegas for private parties, corporate events, meet and greets, photo opps and night club appearances. As Spears, Katie bears a striking resemblance to the pop princess. "Her voice is true Britney and her stage presence is just as solid."
Womanizer
Oops I did It Again
You Drive Me Crazy
Baby One More Time
Toxic
I'm a Slave For You
Circus
I can't get No Satisfaction
I Love Rock and Roll
Everytime
Boys
Lucky
Sometimes I run
I'm Not a Girl Not Yet a Women
Legends in Concert/Norwegian Cruise Lines Epic Ship
Bellagio Corporate
Private Party/Pahrump NV
Performed at Club Revolution/Las Vegas NV
Christmas Show at Bellagio/Las Vegas NV
Legends In Concert/Atlantic City NJ
Legends In Concert/Las Vegas NV
Past Booked Dates:
Legends In Concert/Branson Missouri
Tribute Show/McCallen Texas
New Years Gala/Galveston Texas
Britney show for new club opening/Chicago IL
Legends In Concert/Branson Missouri
Ellen Degeneres Show/Los Angeles CA
" As Spears, Katie bears a striking resemblance to the punchy pop tart- Her voice is true Britney and her stage presence is just as solid. It's rare that a tribute show clone can out-perform the original, but she pulls it off with flair and a faux diamond in her navel. "

New York Times