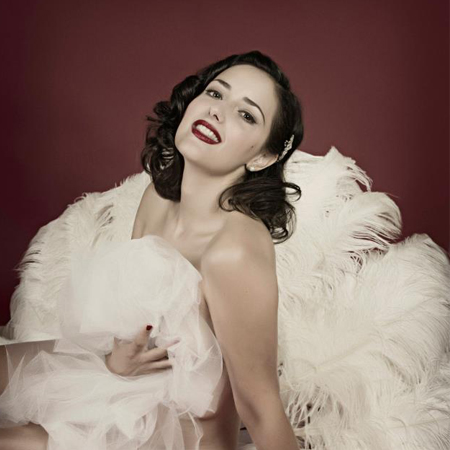 Burlesque Act Grace
Featuring traditional Burlesque, Fan dancing and Singing
Perfect for themed events: Burlesque Cabaret, Cafè Chantant, 30s and 40s
International collaborations as an actress in Theatre, Cinema and TV
Sexy and sophisticated after dinner corporate entertainment
Based in Italy and available to perform worldwide
Burlesque Act Grace PHOTOS
Grace is known throughout Italy by the press and media as "the Queen of Italian Burlesque". 
With her ivory skin and scarlet lips and playing with irony and seduction, all of her talents are highlighted during a Burlesque performance. Her neo-Burlesque shows project the viewer into a dream journey of past times, where old and precious costumes, specially manufactured for each show, function as a frame for her amazing performances.  
In fact what really sets her apart from the others, is her singing.  Grace matches the style of the Cabaret Divas from the 1930s and 1940s with the Italian tradition, along with the unfailing corsets, suspenders, glitter, sequins, gold, jewellry and enormous fans.
Grace has performed at various events, from the ROME BURLESQUE FESTIVAL to the prestigious stage of the ROYAL BURLESQUE.  She is highly recommended for prestigious corporate and private events, product launches, birthdays, business dinners, hen parties both in Italy and abroad.
To find out more about how to book get in contact with our helpful team of Entertainment Experts.
Lancia
Default-exe
Salon Parisien
Boeme club
Le Banque
Circle
Bloody Edith Atelier
Blanco
Louis Vuitton
Angelique DeVille
Royal Burlesque
Miccaclub
Circle
Distillerie Clandestine
Terrybell
Aquaterapy
John Richmond
" Great Enchantress with superb vocal abilities, as well as a beauty of another era, showed to the audience that true talent is married to the art of Burlesque. "

Sophie Lamour
" A talented actress and icon of italian burlesque "

Lucilla Quaglia Il Messaggero
" Grace, Queen of italian burlesque, wowed the crowd with her voice and her mix of sensuality and elegance "

Al femminile
IDEA ARTICLES RELATED TO Burlesque Act Grace