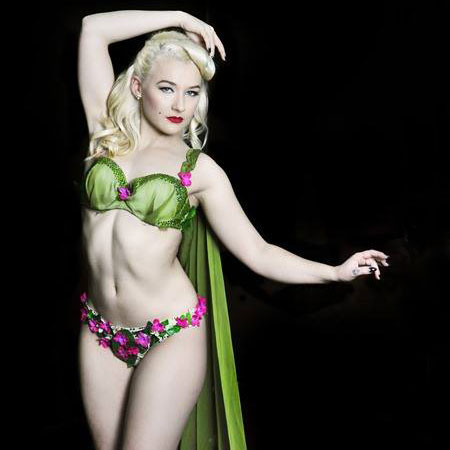 Burlesque & Cabaret Singer
Amazing burlesque routines with a glamorous range of costumes
Miss Burlesque Brisbane & Ms Burlesque Australia finalist
Performed at Madame JoJo's, Volupte, Cellar Door & White Mischief
Perfect for corporate events, hotels, cabarets, festivals, private parties
Based in Berlin and available to perform at events worldwide
Burlesque & Cabaret Singer PHOTOS
A burlesque star not to be missed, this beautiful blonde bombshell has been wowing crowds around the world from Australia to the USA, from the UK to Germany with her stunning singing striptease shows.
Winner of Miss Burlesque Brisbane and Ms Bunny Lishous 2012 and grand finalist in Ms Burlesque Australia, this talented performer offers sensational burlesque performances that will turn up the heat at any event. Filled with incredible solo vocal performances, sexy dance routines and glamorous costumes - when performed for Hubba Hubba Revue in San Francisco - her show was rated in the top 10 burlesque shows on earth!
She has performed at some of London's most premiere venues including Madame JoJo's, White Mischief, Volupte and Cellar Door to name only a few. This truly one of a kind burlesque show is perfect for high-end clubs, corporate events, private parties and hotels.
34 B (Sydney AUS)
Woodford Folk Festival 2011 & 2012 (Woodford AUS)
Miss Burlesque Australia Grand Finals 2012 (Sydney AUS)
Hubba Hubba (Oakland USA)
White Mischief New Years 2013 (LondonUK)
Miss Burlesque Australia QLD Finals 2013 (Brisbane AU)
Performances:
Hubba Hubba Revue (San Franscisco USA)
Miss Burlesque Australia Queensland Finals 2012 (Gold Coast AUS)
The Gangsters Ball 2012 (Brisbane AU)
Volupte (London UK)
Bravo Burlesque (Berlin DE)
Australian Burlesque Festival (Brisbane AU)
Better Than You Revue for Melbourne Fringe Festival @ Red Bennies (Melbourne AUS)
IDEA ARTICLES RELATED TO Burlesque & Cabaret Singer