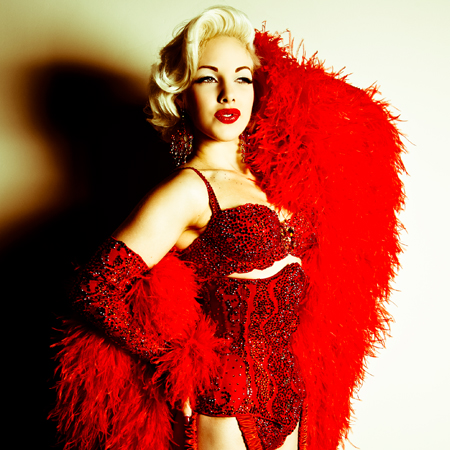 Burlesque Performer Banbury
International Burlesque Show stopper based Las vegas
Oozes the glamour of Hollywood's golden age
The Blonde Bombshell has been dubbed the "Neo Marilyn" of Burlesque
Voted one of the top 50 burlesque stars in the world
Previous clients include BMW, Monaco Grand Prix, The Playboy Club...
Burlesque Performer Banbury PHOTOS
Storming the British Burlesque scene since 2009, she has wowed, entranced and broken the hearts of countless international and UK based clients. Currently One of the most sought after headline acts and a firm favourite on the corporate entertainment circuit worldwide.
Boasting a "body from outer space", Banbury is a vision of 1950s bump 'n' grind perfection with a sex appeal reminiscent of the golden age of Hollywood and mid century B Movie starlets.
Banbury has been dubbed the "Neo-Marilyn" of Burlesque "Bulletproof Blonde" and "The Atomic blonde" (to name a few), was voted one of the top 50 burlesque performers in the world both 2011 and 2012 as well as being selected to perform at the Miss Exotic world and Burlesque Hall of fame in Las Vegas, the New Orleans Queen of Burlesque pageant, Viva Las Vegas 2013, A headline act for the Festival tour of Australia (ABF & Perth), Stockholm Burlesque Festival 2013 and El Molino Barcelona Burlesque festival 2011, 2012 and 2013.
Featuring in some of the world's most recognized publications; Playboy, Marie Claire, GQ, Esquire, the Times and Men's File and has been the poster girl for numerous festivals, events and theatre productions.  Her champagne striptease is legendary, her signature fan dance is unlike anything you have witnessed before.
Acts include:
Champagne Showgirl
7ft Feather fan dance
Red Showgirl
Heat Wave
Diamonds are a girl's best friends
The Cake
Cabaret Ole - TV Madrid
L'archeduc - Brussels
Orleans Casino - Las Vegas
House of Blues - New Orealns
Pigalle Club - London
Balajo - Paris
Royal Yacht - Jersey
Palais Mascotte Gevena
Brussels tattoo convention
Viva Las Vegas Rockabilly Festival
Monaco Grand Prix
Borsalino - Milan Fashion Week
Estiva - Majorca
Universal Music
El molino Barcelona
Taboo Barceona
Volkstheater - Vienna
Harrah's Casino - New Orelans
The Astor Theatre - Perth
The Playboy Club - London
Casino - Monte Carlo
Cannes Film Festival
Swiss Casino - Zurich
Spiegel tent - London Wonderground
British Racing Drivers Club - Silverstone
Kitch Lounge Riot - Cafe de Paris
The Magic Circle - London
BBC worldwide
BMW
Space Ibiza
IDEA ARTICLES RELATED TO Burlesque Performer Banbury