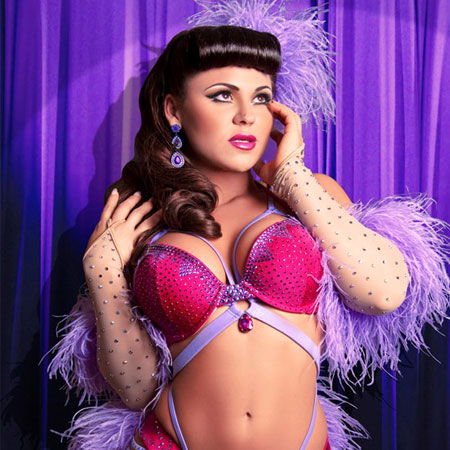 Burlesque Showgirl
Queen of Burlesque, she is one of the world's premier performers
An innovator of the burlesque world, Roxi is a bubbly, ravishing presence
Performs classic striptease with a sexy, modern twist
Offers a wide range of burlesque shows with stunning choreography
Based in Las Vegas and available to perform at events worldwide
Burlesque Showgirl PHOTOS
As one of the world's premier burlesque performers, Roxi has had no shortage of accolades in her illustrious career.
In the past year alone this sexy burlesque showgirl has been invited to compete in the Exotic Dancer Invitational where she won the titles of "Showgirl Champion" and "Best Dancer". Two weeks later she entered the Grand Prix of Exotic Dance winning the titles of "Best Exotic Performance", "Best Burlesque Performance" and crowned the "2014 World Champion of Exotic Dance". An innovator of the burlesque world, Roxi has been voted by her peers one of the "Top 10 Burlesque Performers" in the world.
Performing classic striptease with a modern twist is the hallmark of her performance style; a trailblazer who seamlessly blends elaborate props and costumes with circus performances.
Throughout the world Roxi's reputation has been indelibly etched in the annals of time. The Detroit Free Press refers to Roxi as, "the reigning burlesque diva," while in Vancouver, The Province called her "a bubbly, ravishing presence."
Offering a range of burlesque shows, all complete with mesmerising choreography and stunning costumes, Roxi tailors every performance to ensure that your event is a resounding success.
IDEA ARTICLES RELATED TO Burlesque Showgirl