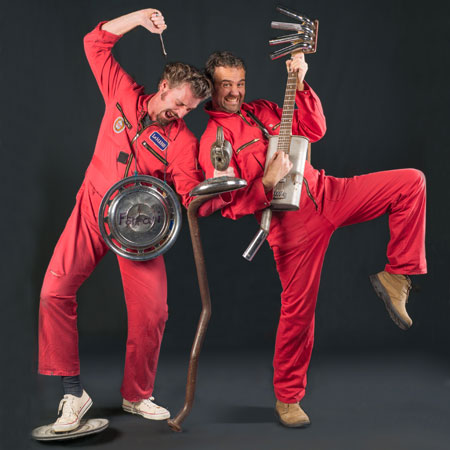 Car Themed Music Show
A side-splitting musical comedy show that is sure to delight & entertain
Features music created exclusively from recycled car parts!
Show can be performed in both German & English
Perfect for Auto Shows, car events, themed events & more
Based in Germany & available to perform at events worldwide
Car Themed Music Show PHOTOS
This unique music show sees two 'Musichancis' (that's musicians and mechanics to you and me) take to the stage, which has been transformed into a car workshop, and make beautiful music using only recycled car parts!
This comic duo use car horns, bumpers, exhaust pipes, tools and anything else that they can find to create unique musical renditions of well-known songs like "Amazing Grace" and "Smoke On The Water"! The show also features hilarious comic antics and some impressive visual effects. Side-splittingly funny, there is no doubt that this comedy music show it unlike any that you will have ever seen before.
Perfect for Auto Shows and car themed events with international audiences, the show can be tailored to suit your specific events needs. Whether you're looking for a quick 10minute performance or a full-length stage show with the optional extension of a live Rock & Roll Band, this hilarious duo can create something perfect for you.
Petrol head or not, everybody will enjoy watching this engaging and exciting comic stage show!