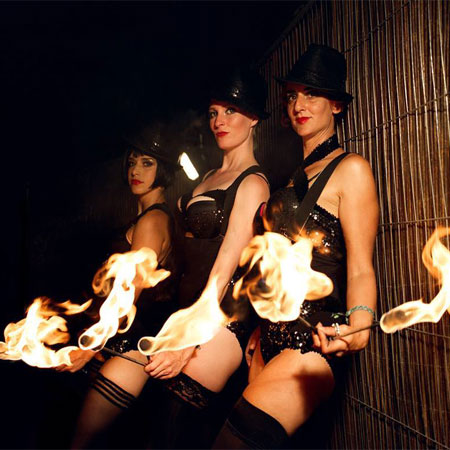 Circus Entertainment
Multi-skilled performers: fire & pyro, stilt walking, burlesque & more
Exquisite costumes & a wide range of themes: Geisha, Heaven & Hell…
Offer a bespoke service tailoring shows to fit exact requirements
Previous clients include: Swarovski, BT, T Mobile, Specsavers & more
Based in London & available for events world-wide
Circus Entertainment PHOTOS
With over 10 years of experience, this all encompassing circus show specialise in providing high quality circus entertainment tailored to perfection for your event. Multi-skilled performers perform a huge array of acts including: fire and pyrotechnic shows, burlesque and cabaret acts, aerial shows, as well as providing a range of themes from Geisha to Vintage Parisian. Each package can be tailored to fit the client's exact requirements, including making costumes to a theme if required.
Each show is explosive and high-energy, performed by a sassy all female crew. These well-seasoned performers will WOW audiences with their exquisite costumes and make-up, stunning choreography, daredevil risqué acts and music.
As well as stage shows, this talented act can also meet and greet guests and perform in parades. 
Acts
Aerial Fire Bird
4 winged fire dancers set the stage for the aerial firebird who rises up through the circle of flames. Suspended from wires this flaming airborne nymph soars and dances through the air.
Fire Trapeze
Headbalance, fire staff and trapeze routine with 3 performers.
Wheels of Fire
Choreographed fire dance including roller-skates and canes of fire.
Angle Grinding
Showers of sparks emanate from the performers costumes creating a dizzying display of daring.
Flame Fatale
Acrobatics, traditional martial arts and dance with fire fans, fire staffs and a firesword.
Futuristic Fire
Incorporates multiple fire tools including flame throwers and pyrotechnic effects.
Stiltwalking Fire
Mobile fire act, where skilled performers combine fire spinning and juggling with stilt walking.
Cabaret and Burlesque 
Top Hat and Tails - hat and cane, fire and burlesque style strip tease.
Sword Acts
Maya Warriors, Oriental, Matrix and more
Themes
Geisha style burlesque
Heaven & hell theme
Underwater theme
Alice in Wonderland 
Vintage Parisian
Candy Girls (on Rollerskates)
Christmas
Sattchi Gallery
Channel 4
Glade Festival
Lattitude Festival
Agent Provocateur
Deisel Fashion Show - Italy
Silverstone Races
BT
Specsavers
Genco
Monaco Yacht Club
CBBC
Glastonbury Festival
Henley Festival
The Scorpians
Austrian Sporting Awards
Guru Fashion Show - Italy
Newmarket Races
T.mobile
Proud London
Glyndebourne Opera
Swarovski