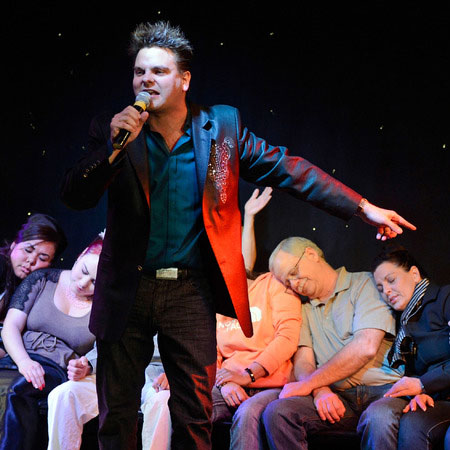 Comedy Hypnotist
Incredible award-winning performer will have everyone in fits of laughter
As a certified hypnotherapist he ensures volunteers never feel uncomfortable
Dubbed twice winner of 'The Best of Las Vegas' award for comedy show
Fast-paced show combines comedy, razor sharp wit & genuine compassion
Based in Las Vegas & available to perform at events worldwide
Twice winner of 'The Best of Las Vegas' award for his comedy hypnosis show, a certified hypnotherapist and award-winning performer, this artist provides incredible comedy with a sensitive touch! 
Taking hypnosis to a whole new level, this performer ensures that, whether in the audience or volunteering, no one gets embarrassed and EVERYONE has fun. Conducting his show with the utmost sensitivity and compassion for his volunteers whilst still maintaining a high level of comedy, he offers an outstanding performance and an experience that will stay with audiences for a long time to come. 
Combining stand-up comedy and razor sharp wit he'll make your guests the star of the show. You won't be able to stop laughing as the audience members on stage start talking to their shoes, fight over napkins, give rousing renditions of 'Hit Me Baby One More Time' as Britney Spears and much more! He can also customize his show to be a certain length and feature certain hypnosis stunts.
A fantastic performance perfect for corporate events, theaters, casinos, hotels and resorts, cruise ships and much more, inquire now to book this act for your event!
" As racy as it is charming! "

Las Vegas Magazine