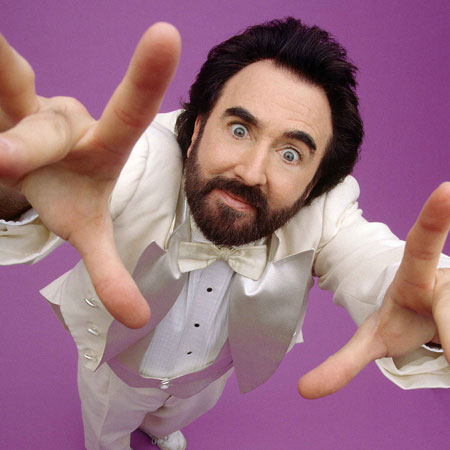 Comedy Illusionist California
Incredible comedy magician will amaze and entertain audiencesIncredible comedy magician will amaze and entertain audiences
Emmy nominated illusion stage show delivers stunning tricks and magic with a hilarious and wacky delivery
Brilliant close up magician amazes audiences before their eyes
Flamboyant and ingenious comedy illusionist has amazed audiences at events for IBM, Paramount, Ford, Jim Bean and many more
Outstanding magic stage show available for performances worldwide
Book our incredible comedy illusionist for an unforgettable night of magical madness! This fantastic comedy magician will delight audiences of all ages with his hilarious and dazzling show that's full of top quality magic and side splitting comedy. This offbeat and zany magic stage show has amazed audiences all over the world with a mixture of seriously impressive magic and illusions combined with a flamboyant and light hearted delivery that adults and children alike will love. Our talented magician offers a great selection of wacky shows and acts, from personal close up magician tricks to grand illusions with a huge cast of characters and visually dazzling illusions. This acclaimed, Emmy nominated magician and his one of a kind illusion stage show are perfect for giving audiences a thrilling and original magical performance like nothing they've seen before.
Our comedy magician puts on a vibrant and fun filled show packed with incredible sleight of hand, stunning illusions and hilarious audience interaction. While our natural showman and comedian may pack his illusion stage show full of laughter and light-hearted banter his magical skills are for real and his selection of tricks and illusions will leave any audience stunned. With a huge previous client list including Ford, KFC, Paramount, ABC and Jim Bean this acclaimed comedy illusionist knows how to put on a world class performance to amaze and entertain any audience.
Our comedy magician offers a selection of acts to suit any occasion. As a close up magician he will amaze groups of guests with dazzling magic tricks right before their eyes in a fast and fun act that's perfect for dinner parties and receptions. Our magic stage show works brilliantly as a lively and dramatic one man show and can be scaled up to include a full cast of performers including wacky assistants and glamorous dancers for an unparalleled night of entertainment.
Scarlett Entertainment offers you a great selection of comedy magic to entertain audiences worldwide.
Contact our team to book our fantastic Comedy Illusionist California.
Honeywell
Jim Beam
Kodak
Sony
ABC
" Your great work provided us with an outstanding night of entertainment. 
Everyone who attended was raving about the event. "

Robert Deckman, Manager of Advertising and Sales Promotion - Multiquip Inc.
" You were the hit of the evening! Valmont will remember you as 
the entertainer who was able to get Bob Daugherty up on stage. 
You have a great talent "

Kelsey Flower, Account Executive - Swanson, Rollheiser, Holland, Inc.
" Thanks again for your fabulous performance at our firm-wide partner outing. 
Making our chairman, Chuck Bender, magically appear at the 
end of the show was pure genius "

Richard B. Goetz - O'Melveny & Myers, LLP
" The show and all the preparation was perfectly coordinated. 
I especially appreciated that you included many guests 
from the audience in the show which made them feel very special "

Christensen, Miller, Fink, Jacobs, Glaser, Weil & Shapiro, LLP