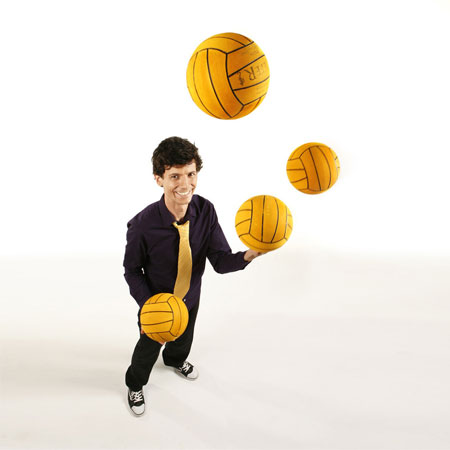 Comedy Juggling Show
Comedy juggling act is a memorable addition to any event
Juggling antics will delight audiences of all ages
Offers juggling shows, walkabout & workshops
Perfect for corporate events, trade shows, gala event & private parties
Based in London & available to perform at events worldwide
This comedy juggler from London will delight audiences of all ages with his hilarious stage show. Juggling all manner of objects from kitchen utensils to sports equipment, this loveable performer gives memorable performances with plenty of audience interaction and engagement!
In addition to his stage show he also offers a fantastic walkabout act that leaves him free to mix and mingle with guests entertaining them close up with funny impromptu mini shows. An experienced performer he can adapt his act on the night to make sure that your guests are engaged and entertainment from start to finish. His walkabout act is perfect for a whole range of events; he can impress guests as they arrive, entertain queues, entice potential clients to your trade stand, and wow spectators at public events and store openings.
An experienced teacher he can also provide workshops for team building days and icebreakers for corporate events. His workshops can be taught in office or meeting rooms - there is no need for a large venue. Focusing on group and individual learning, building team working and interpersonal skills or any other subject, he can tailor his workshops to suit your event needs.
" As far as entertainment/team build was concerned the Juggler was particularly good. He did a great job of helping us make the link between a complex skill made easier, through process and the metaphoric inferences between IT project management and juggling itself. The latter part of the process was spent outside in the sun and pretty much everyone in the team left the event at least being able to perform a simple cascade juggle of 3 balls (even the doubters). Really good fun and recommended. He was on time, well turned out, confident and easy to work with. He was humorous, attentive and spent time with everyone to get them up to the same level! "

PepsiCo (13/3/14)
" Many thanks also for the excellent sessions on Friday. We've had universally positive feedback about the day. The scarf juggling went down particularly well, so you've made a lot of scientists really pleased with themselves. Someone just told me he was juggling noisily with coloured carrier bags in his kitchen when he got in from the pub on Friday evening! "

Edwin Silvester, Royal Society of Chemistry (29/11/13)
" Likeable cheekiness and plenty of originality. Visual silliness, plenty of funny banter with the audience, but most importantly of all, great juggling prowess, make him a fun watch from start to finish. And, when it comes, his big finish was hilarious and mightily impressive. "

Derek Smith, The Stage