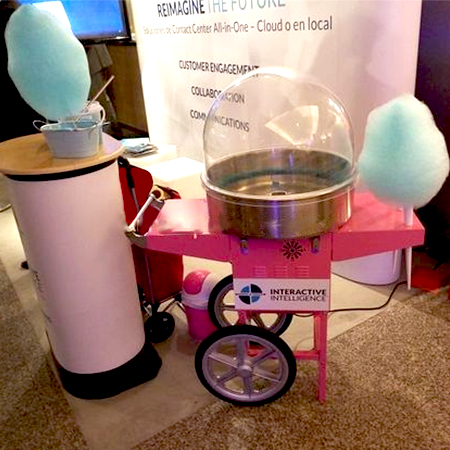 Cotton Candy Carts
A genuine cotton floss pop up cart that can be branded and set up both indoors and outdoors
A branded mobile catering service that provides cotton floss of different colours and flavours
Cotton candy suppliers can provide trained staff who can wear branded clothing
Minimum length service is three hours, extendable upon request
This pop up cart is available for bookings in Madrid and across Spain
Provide guests at your upcoming event with something sweet by hiring Cotton Candy Carts, the perfect branded mobile catering solution for a wide range of occasions. This pop up cart can be branded with any logo or image and it included a cotton candy machine with a stainless steel base.
Loved by both children and adults alike, this cotton floss machine can supply cotton candy of different flavours and colours. From the traditional and classic pink to blue, green of violet, our cotton floss suppliers will make sure your occasion is a feast of colours.
Whether you're hosting an indoor or an outdoor party, this Candy Cotton Cart can be assembled anywhere you want, whether permitting. Just bare in mind that the cotton floss machine requires power supply nearby and the pop up cart needs a minimum space of 0,54 x 1,24 m (1.7 x 4 ft) to put it together.
This branded mobile catering service can be booked for a minimum of three hours, time that can be extended upon request. Staff can wear branded clothing especially for your event or wear some traditional candy floss seller's outfit.
Suitable for events such as exhibitions, trade shows, product launches, corporate occasions, private parties and themed events, this pop up cart can add a retro touch to any party and bring back many childhood memories to older generations.
This branded mobile catering service's prices includes the following:
Transportation of Cotton Candy Carts and additional equipment
Cotton Candy Carts and machine assembly and dismantling
Professional staff who distributes the cotton candies
40 cotton candies
Staff clothing
Is this Cotton Candy Cart what you have in mind in order to surprise guests at your party? Then don't hesitate to get in touch with us and ask to speak to one of our coordinators, who will gladly answer all your questions and guide you through the booking process.