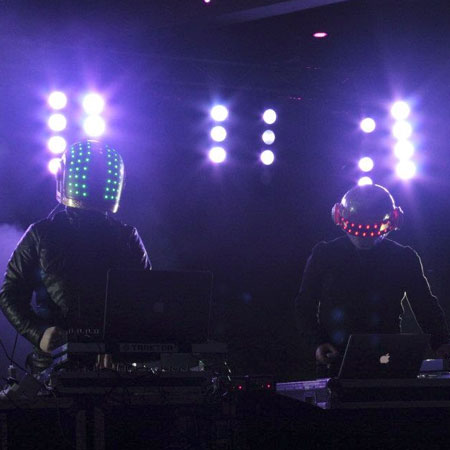 Daft Punk Tribute
Daft Punk Tribute DJ's are a unique & alternative entertainment solution
Innovative act that will keep your guests on the dance floor
Playing all the classic Daft Punk hits mixed with a few techno surprises
Popular with nightclubs, corporate events, music festivals, parties...
Based in Dublin & available to perform at events worldwide
After 20 years, the world has finally caught up with Daft Punk, the illusive helmet-clad retro-futurists with who the world has become so familial. Their infectious dance music, up-beat rhythmic vibe, robotic counterparts and truly epic live shows has been the staple diet of some the biggest and most well-renowned festivals since the release of their revolutionary debut album Alive in 1997. As any of those few lucky ones, who managed to get their hands on a golden ticket to one of the most sought-after live shows in history will tell you, there wasn't one person who didn't go home from that show feeling a little bit better about the world.
Now you may too experience the undeniable awesomeness that is Daft Punk with this brilliantly unique and alternative entertainment solution.  Rediscover this magic at any event with the now infamous Daft Punk Tribute act.
So if you are tired of booking the same type of entertainment for your events, then the Daft Punk Tribute act are for you. The Daft Punk Tribute DJ's are a great unique and Alternative Entertainment idea for Nightclubs, corporate events, music festivals or Private parties.  A innovative act for events that will keep your guests on the dance floor all night long.
NOTE: THIS IS A TRIBUTE AND COVERS ACT AND IN NO WAY DO THEY PORTRAY THEMSELVES AS THE REAL DAFT PUNK
An up-tempo remix-heavy and electro classic set based off the ALIVE 2007 album perfect for any club.
To include:
Around the world
Make Love
Steam Machine
Robot Rock
Get Lucky
The Prime Time Of Your Life
Television Rules The Nation
Crescendolls
Da Funk
Human After All
Alive
One More Time
Among many other classic and recent Daft Punk tracks...
'ALIVE' Experience
A more organic and light-hearted disco/funk set based of the new Random Access Memories album ideal for any corporate event.
To include:
Give Life Back to Music
The Game of Love
Giorgio by Moroder
Within
Instant Crush
Lose Yourself to Dance
Get Lucky
Beyond
Motherboard
Fragments of Time
Doin' It Right
Contact
Plus a few classic disco/funk surprises...
'Corporate' Experience