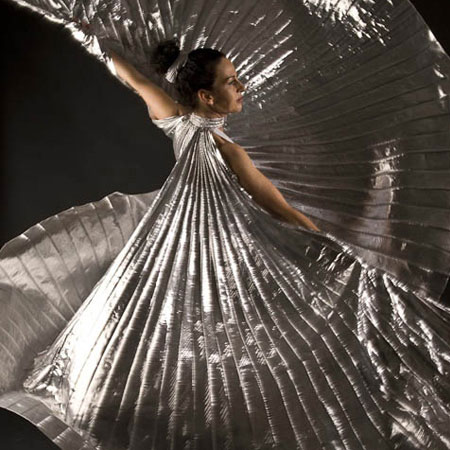 Dancer: Shosha
Multi talented Shosha offers Trapeze, Aerial, Fire & Belly Dancing
Popular with corporate functions as after dinner entertainment to watch
Shosha has performed for Cirque du Soleil, film premieres & festivals
Performed around the world in Japan, Italy, Austria & Belgium
Based in Berlin, Germany and available to perform worldwide
This multi talented acrobat has performed and showcased her amazing skills around the world, at numerous galas, festivals, Cirque Du Soleil, film premiers and events.
Performing graceful, unique choreography in gorgeous costumes and with perfect timing, this act is a pleasure to watch and is sure to impress the audience and leave them with a lasting impression.
Versatile and innovative shows that sparkle with energy and imagination; the perfect climax for your event.
Show options;
Trapeze 'Indian Statue' – Watch as an Indian statue comes to life, dancing in the air, bathed in golden light and creating a sense of times past......
Aerial tango – Experience the elements of this passionate dance overhead!  Full of red, fiery passion, this is a sensual and playful performance.
Comic trapeze – this is an uplifting and funny aerial performance, acted out superbly in front of a riveted audience.
Aerial silks – With rousing choreography, this is an experience in and with silk handkerchiefs to beautiful cello music.
Other non-aerial shows available;
Fire fans
Skirt Dance/Isis Wings
Sword dance
Oriental Belly Dance
McKinsey Gala Sardinia
Eismann
Deutsche Post AG
Gardena
Mercedes-Benz
And many more...
Film premiere' Lissy und der wilde Kaiser' Austria
Appolinaris
BMW
Auto World Museum Brussels
Hotel Caiperici Italy
Bavaria Film Studios
Children's Circus Tempodrom Tour Japan
" Blessed as a trapeze artist ... with her enthusiasm, it was a very successful performance... this act combines dance, musical and artistic talents. "

DEWEZET
" With her dance trapeze choreography, she charmed the audience at the GOP vaudeville Hanover. "

Neue Presse, Hannover
" ....musicality and daring tricks unite to create a sensual experience.....she performs breathtaking trapeze skills. "

EXTRA TIP, Kassel
" ....sit back and enjoy a relaxing show with Shosha ...this graceful trapeze artist soars high above the audiences' heads...impressive and artistically compelling. Her gorgeous costumes and choreography kept the audience under her spell. "

CURTAIN UP, webzine of the Darmstadt
" .... this act performs with unbelievable ease on the trapeze.....breathtaking choreography combined with skill and aesthetics. "

SAS Essen