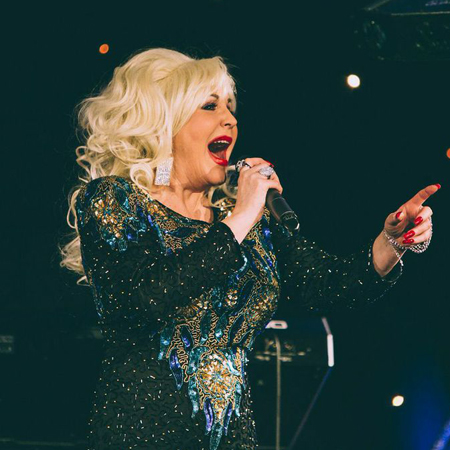 Dolly Parton Lookalike
Dubbed Europe's foremost Dolly Parton lookalike
Amazing vocal & visual impersonator of the iconic Dolly Parton
Performance features 2 replica Dolly Parton concert costumes
Set list inc. Jolene, 9 to 5, Backwoods Barbie, Two Doors Down & more
Recent clients include Peugeot, BBC, Coca Cola, The RAF, P&O Cruises & BT
Dolly Parton Lookalike PHOTOS
A professional lookalike and impersonator, Paula has taken her numerous tribute performances around the world performing to huge crowds at renowned venues and even hosting her own long running show at The Riviera Hotel & Casino in Las Vegas.
Dolly Parton is an internationally renowned superstar. An iconic figure in country and country-pop music scene she has contributed countless treasures to the world of music entertainment such as 'Jolene', 'I will Always Love You' and '9 to 5' to name but a few. With a natural likeness to the great lady herself and an the incredible ability to impersonate voices, Paula has created a Dolly Parton tribute show that has seen her dubbed as Europe's foremost Dolly Parton lookalike.
In her Dolly Parton tribute show, Paula showcases her amazing talents as a vocal and visual impersonator exactly replicating Dolly's bubbly persona, quick wit and powerful voice. Audiences are treated to a set list full of Dolly's greatest hits old and new; from 'Jolene', 'Coat Of Many Colours', '9 to 5', and 'I Will Always Love You' to 'Backwoods Barbie'. Two replica Dolly Parton concert costumes including the now famous 'Backwoods Barbie' and witty repartee with the audience complete this incredible tribute show!
This is a truly fantastic tribute show to Dolly Parton in every way and will be sure to delight Dolly Parton and country music fans of all ages.
Two Doors Down
You Can't Make Old Friends
Latest Duet with Kenny Rogers
Jolene
Coat Of Many Colours
Here You Come Again
Backwoods Barbie
Baby I'm Burnin'
Shinola
Home
Jesus & Gravity
I Will Always Love You
And many more....
9 to 5
Coca Cola
P&O Cruises
And many more…
Peugeot