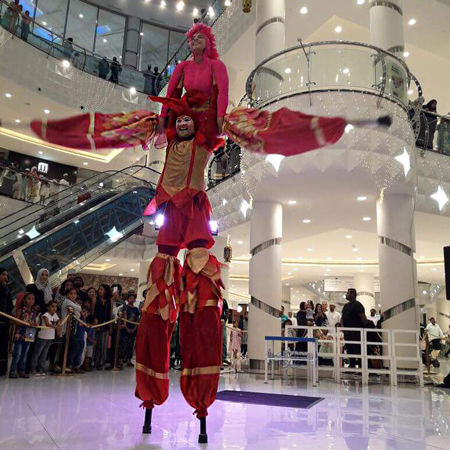 Dubai Circus Duo
Extremely versatile and multiskilled circus duo with many performance options
Will provide acts with juggling, fire performances, acro balance, and acrobatic stilt shows
Can customise their appearance to fit a theme and tailor the act to suit the event type
Great for shopping malls, outdoor fêtes, corporate events, galas, parades, opening ceremonies, product launches and much more
Based in Dubai and available throughout the UAE
If you would like to hire circus performers for your event and need some entertainers who are able to provide you with a wide variety of options, our Dubai Circus Duo will be a great choice. These two multiskilled circus performers have a range of disciplines that can be specially tailored to your event and they provide really great family-friendly entertainment for audiences of all types. 
Originally from Columbia, this Dubai Circus Duo started performing together over 15 years ago in a street theatre group. They toured through Europe, North America, Central America and around Colombia doing street performances. Since relocating to the UAE, the multiskilled performers have been devising a variety of street theatre and circus acts that can be booked for events of all types.
The Dubai Circus Duo is able to provide acts with juggling, fire performances, acro balance, and acrobatic stilt shows. These Dubai circus performers are extremely versatile and will accommodate any location and event type. They have a range of costumes ready to be tailored to any event theme and have plenty of experience being involved with Christmas festivities, shopping malls and any event that requires family-friendly entertainment. 
Available for any type of event, the Dubai circus performers are great for shopping malls, outdoor fêtes, corporate events, galas, parades, opening ceremonies, product launches and much more. 
Contact us to hire circus performers for your event in and around the UAE and our team of Entertainment Specialists will make the necessary arrangements with our Dubai Circus Duo.