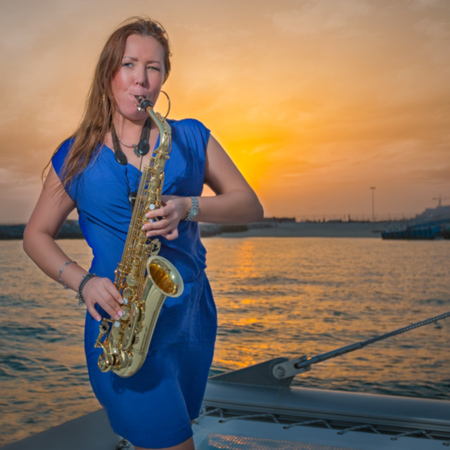 Dubai Sax Player
Brilliant female saxophone player plays a diverse range of music
Solo performer can also join other musicians with ease
Impeccable musical host for all types of events
Can perform without any form of equipment
Based in Dubai and available throughout the UAE
Scarlett Entertainment boasts a roster full of artists who can provide excellent live music for your events, from function musicians to incredible solo artists. Our Russian Dubai-based sax player is an impeccable musical host for your event. Stylish and hugely talented our saxophonist delivers the soothing tones of the sax at any event you like and always in presentable manner.
You won't be disappointed in our function musician. She is a professional and highly qualified sax player and multi-instrumentalist with years of experience performing live music for all types of audiences. This Saxophonist is highly versatile with a wide range of songs and styles she can perform at your choice. She is very flexible and will adapt to her environment or the type of event you book here for. Out musical host has a fantastic personality on and off stage and has great personal interaction with guests at the event.
This sax player is flexible in many ways. Book her solo performance and it is possible to have live music without any other equipment or soundsytem. This means she can suit almost any location in the world. Alternatively, she can perform along to a backing track and being a talented function musician, she can join other musicians for more full band performances. The choice it yours.
Highly experienced at providing live music for guests at many hotels in and around Dubai, our saxophonist has played at the Ascot Hotel, Park Hyatt Hotel, Armani Hotel at Burj Khalifa, Ramada Continental, Al Habtoor and Dubai Gold & Spa Resort as well as performing in restaurants and the Dubai Mall. There is no question that our saxophone player is adept at entertaining all kinds of crowds and makes a wonderful musical host at any occasion.
Contact us today to book an elegant saxophonist for your event.
Ain't Misbehaving  (Jazz)
Ain't No Sunshine
All Of Me ( John Legend )
Always look on the bright side ( Pop English )
American Pie (Pop)
Aqua  De Beber ( Jazz )
Aright Okay You Win ( Jazz )
As Time Goes By ( Jazz )
Besame Mucho (Pop Jazz )
Breathless ( Pop )
Bye Bye Blackbird ( Jazz )
Careless Whisper  ( Pop Jazz )
Chattanuga Cho Cho ( Jazz )
Cheek To Cheek ( Jazz )
Dancing Queen ( Pop )
Desafinado ( Jazz )
Desert Rose ( Pop )
Don't Get Around Much Anymore ( Jazz )
Don't Know Why ( Pop Jazz )
Dusty ( Jazz Pop )
Emmanuelle ( Pop )
En Carnaval ( Jazz )
Every Breath You Take ( Jazz Bossa Pop )
Excistais Paix ( Pop )
Feelings ( Pop Jazz )
Fever ( Jaz Pop )
Fly Me To The Moon ( Jazz )
Forever And Ever ( Pop Jazz )
From Souvenir To Souvenir( Pop )
Georgia ( Jazz )
Girl From Ipanema ( Jazz )
Green Onions ( Jazz Funk )
Guantanamera ( Latino Pop )
Heal The World ( Pop )
Honesty ( Pop )
How  Insensitive ( Jazz Bossa )
I Have A Dream ( Jazz )
I Will Always Love You ( Pop )
I will Wait For You ( Pop )
In The Midnight Hour ( Jazz Funk )
Isn't  She Lovely ( Jazz Pop )
It's Alright With Me ( Jazz )
It's Raining Man ( Pop )
I'll Be There ( Pop )
I'm Outta Love ( Pop )
I've Got The World On A String ( Jazz )
Killing Me Softly ( Pop )
Lady In Red ( Pop )
1001 Night ( Arabic )
Lady's Night ( Pop )
Left Alone ( Pop Jazz )
Let's Stay Together ( Pop )
Love Story ( Pop )
Masquerado ( Jazz )
Masquinada ( Jazz )
Mimino ( Rus Pop )
My Funny Valentine ( Pop Jazz )
My Ship ( Jazz )
My Way ( Pop )
Na Bis ( Rus Pop )
Nature Boy ( Jazz Bossa )
Nocturn Harlem ( Jazz )
Now The Time ( Jazz )
On Green Dolphin Street ( Jazz )
Ooops!... I Did It Again ( Pop )
Ordinary World ( Pop )
Over The Rainbow ( Jazz )
Oye Como Va ( Pop )
Paradise ( Pop )
Perhaps Perhaps… ( Latino Pop )
Pick Up The Pieces ( Jazz Funk )
Pure Shores ( Pop )
Reach ( Pop )
Reality ( Pop )
Respect ( Jazz Funk )
Rise ( Pop )
Rocking All Over The World ( Rock N Roll )
Route 66 ( Jazz )
September ( Pop )
She Is The One ( Pop )
Soul Finger ( Jazz Funk )
Soul Man ( Jazz Funk )
Stay With Me ( John Legend )
Still Got The Blues ( Pop )
Strangers In The Night ( Pop Jazz )
Strawberry Fields ( Pop )
Summertime ( Jazz )
Sunny ( Pop Jazz )
Superstition ( Jazz Funk )
Sway ( Latino Pop )
Teddy Bear ( Rock N Roll )
Tequila ( Rumba )
The Dock Of The Bay ( Pop )
The Godfather ( Pop )
The Shadow Of Your Smile ( Jazz )
Walking  The Dog ( Jazz Funk )
Who's Making Love ( Jazz Funk )
Yesterday ( Pop )
You Took Advantage Of Me ( Jazz )
You've Got A Friend ( Jazz Pop )