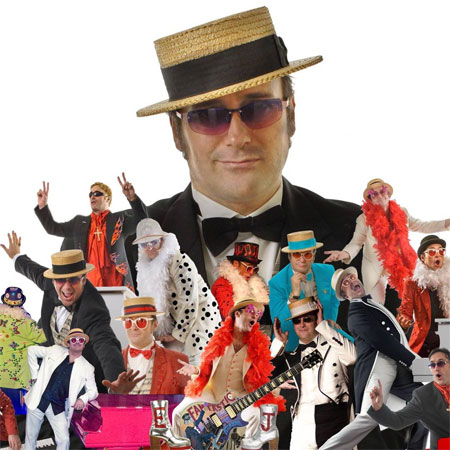 Elton John Tribute Show
Not simply a fabulous Elton John lookalike, this tribute show takes audiences on a journey through four decades of amazing music
Jam packed with all of Elton's best songs, this tribute stage show features hits like Crocodile Rock, Tiny Dancer and Rocket Man
Dressed to impress, our Elton John impersonator has same the wacky personality and penchant for sunglasses as the real deal
Our Elton tribute is perfect for festivals, wedding receptions, corporate functions and more
Book Elton John Tribute Show for your event in Norway or internationally
Elton John Tribute Show VIDEOS
Elton John Tribute Show PHOTOS
At Scarlett Entertainment we are proud providers of the industry's best acts for events. From musical acts and tribute stage shows through to cabaret performances and theatre artists, our eclectic roster offers something for every audience and event type. Recreating the sounds and sights of a real Elton John concert, our Elton John Tribute Show takes audiences on an all-singing all-dancing tour of a repertoire than spans 4 decades! A spitting image Elton John lookalike, our Elton tribute is the perfect front man. Accompanied by a full band- even including Elton's former band member Mr. Charlie Morgan, this tribute show is every bit as energetic and exciting as it's forerunner. Favoured by the man himself, upon meeting our Elton John impersonator the real Elton remarked "You're the best me I've ever heard!"
One of the greatest pop stars of all time, Elton John's remarkable career has lasted more than 40 years and is still going strong. Passionate about bringing the atmosphere of an authentic Elton John concert to events, our first rate Elton John impersonator pays attention to every detail of Elton's flamboyant shows in order to perfectly replicate them. Recreating the visual and acoustic qualities that make Elton's shows truly extraordinary, this tribute stage show features all of his best loved hits including Rocket Man, Don't go breaking my heart, Are you ready for love? and Don't let the sun go down on me.
Fronted by a spitting image Elton John lookalike with the wacky style and charismatic personality to match, this show also incorporates a full live band. Complete with 9 musicians performing digital grand piano, drums, guitars, percussion, keyboards and more, as well as full technical and lighting production, expect a complete Elton tribute experience!
As close as you can get to a real Elton John show without having to cough up millions to book him for your event, our Elton John impersonator and his band are in high demand to perform at festivals, corporate parties and wedding receptions across the globe.
For more information about booking this Elton John Tribute Show for your event, please get in touch with our team at Scarlett Entertainment today and get ready to feel the love tonight!
Crocodile Rock
Daniel
Philadelphia freedom
Rocket Man
Goodbye yellow brick road
Benny and the Jets
Candle in the wind
Tiny Dancer
Don't go breaking my heart
Sorry seems to be the hardest word
Funeral for a friend – Love lies bleeding
I guess that's why they call it the blues
I'm still standing
Little Jeannie
Sacrifice
Saturday night's alright for fighting
Made in England
Can you feel the love tonight
I don't wanna go on with you like that
Your Song
The bitch is back
Don't let the sun go down on me
Burn down the mission
Hercules
Are you ready for love?
Part-time love
Kiss the bride
Blue Eyes
Bite your lip (get up and dance)
Circle of life
The One
Sad songs (say so much)
Nikita
" The show is amazing, he is without any doubt one of the world"s most sensational "Elton John tribute artist!"As the grand piano takes centre stage the crowd is awestruck with both a powerful and emotional tribute to Elton John with selections which have the audience from "Crocodile Rocking" to remembering the fragility ofa "Candle in the Wind" ...Simply magnificent! "

Rev. Bruce Sheasby, Producer of the "07 "Blue Christmas Concert" Epcor Center"s Jack Singer Hall,Calgary, Canada.
" The quality of the music impressed both myself and my colleagues. Hiring this show will ensure that you will receive an exceptional and quality performance that will impress and entertain anyone! "

Unni Husum-Hogseth, Office Manager, Norpark
" It's crazy!…I'm totally shocked!…I couldn't believe it was someone else up there and not Elton himself… I feel like I've been pulled through some kind of time warp and was back in the 70s or 80s…The songs, the voice, the glamour… just fantastic! "

Sara McGregor. Event manager, Exterior Promotions London, U.K.