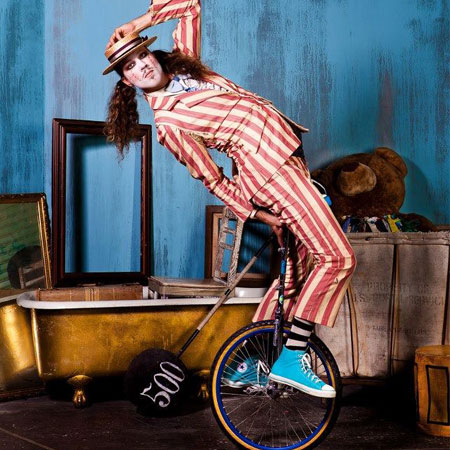 Entertainment Artist
Multi-talented entertainment artist performing vaudeville
Skills inc. juggling, stilts, face balancing, uncycling & magic
Can create a customized show catered to suit individual client's needs
Perfect for festivals, gala dinners, corporate events & private functions
Based in California & available to perform at events worldwide
Entertainment Artist PHOTOS
A professional entertainment artist of the highest quality, our vaudeville entertainment artist offers exciting and highly enjoyable vaudeville entertainment that will not fail to put a smile on audiences' faces. 
Proficient in a range of circus skills his sensational performances combine juggling, magic and sleights of hand, face balancing, comedy, improv and unicycling. Audiences will be awe-inspired as he balances objects on his face and chin, performs an impressive juggling act, expertly unicycles and induces raucous laughter with his quick wit and quirky sense of humour! Plenty of audience participation and audience interaction is also to be expected. His oddly intriguing appearance: curly moustache, pigtails, outrageous clothing and 6'6" stature add an even more unique edge to his vaudeville stage shows. 
Not only a fantastic circus performer and artist, our entertainer is also an award-winning vocal looping artist and his feats of vocal prowess can also feature as part of his circus act. 
As he possesses such a wide range of skills he is able to easily create customized performances and experiences for individual events and per clients' requests. Whether you're looking for a comedy stage show at a children's party, walkabout circus entertainment at an outdoor festival, a mix of vocal looping and vaudeville entertainment for your unique corporate event, or just straight up circus skills to entertain guests, our amazing entertainment artist can deliver. 
Hire this well versed street performer, clown and improvisational actor for your event today! 
Top Tip
Looking for something with a spontaneous edge? This artist thrives on the unexpected and some of his best work has come from awkward moments on stage and with the audience!