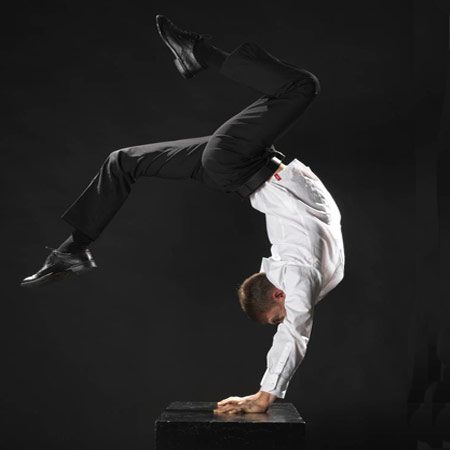 Equilibrist Artist
Skilled at balancing in unusual positions with hazardous movements
Has unbelievable strength, balance and movement
A graceful, inspiring and captivating performance
Has won multiple Russian competitions at first prize
Based in Hamburg, Germany and available to perform at events worldwide
Equilibrist Artist PHOTOS
Equilibrist Artist Slava is a performer who has unbelievable strength and is skilled at balancing in unusual positions and hazardous movements.
He originally trained in acrobatics, trampoline and double minitramp in Russia, and began competing all over the world, winning several important titles along the way, including; two first places in the Russian Championships, first place in the Russian Cup and third place in the European Championships team.
Slava performs difficult feats of balancing, he has perfected the handstand using core balance to twist and move his body weight whilst remaining in a strong balanced pose. A mesmerising experience for any audience.