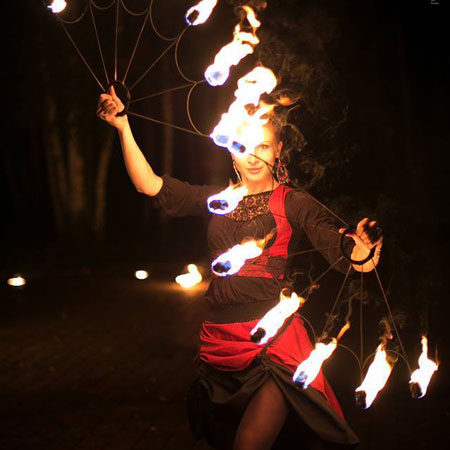 Estonia Fire Dancer
A sensual and empowering fire dance show packed with stunning flaming tricks and manipulation
Our Estonia fire dancer creates mesmerising shapes with light in the night sky
Our fire artist moves deftly with her fire poi and fire fans creating an enchanting fire dance show
An exciting and energetic fire poi and fire fan act perfect for festivals, weddings, high-octane events, outdoor celebrations and more
Based in Estonia, our fire artist is available for international bookings
Estonia Fire Dancer PHOTOS
A highly talented dancer and fire artist, our Estonia Fire Dancer is in high demand for events in her homeland Estonia. 
Delivering a sensual and empowering fire dance show, our fire poi and fire fan artist's act is packed full of stunning fire tricks and manipulation. 
Clearly at one with her fiery props, our fire artist moves deftly beneath and midst her flames to create a stunning and mesmerising spectacle. 
A fantastic act for night time entertainment, this fire dance show encapsulates all the finest fire show choreography to create enchanting shapes in light that illuminate the night sky. A sparkling fire prop creates showers of light to create a beautiful lit up scene.
Guests will watch breathless as she performs her beautiful dance and fire manipulation with fire poi and fire fan among others. 
With a number of different costume options, our talented Estonia Fire Dancer is able to create different looks depending on the vibe and needs of your event. Whether an elegant and classic look is required, or you want to go wild with alternative and eye-catching costumes, our fire artist can deliver just the right atmosphere. 
Fire acts are always an eye catching and unique way to grab attention and make a statement. Our fire poi and fire fan's choreography makes no exception with plenty of daring twists, backwards bends, and graceful dance moves that make the most of the spectacular flaming props. 
With years of experience performing for a diverse range of events and venues, our Estonia Fire Dancer delivers a professional performance and service. 
Passionate about her craft, our fire artist has a number of set fire dances she can perform to set different moods. Or ask her to choreograph something special for a truly tailored and unique performance. 
Discover more the fantastic fire artists we hold on our books. 
To book this enchanting fire artist, get in touch with our team.