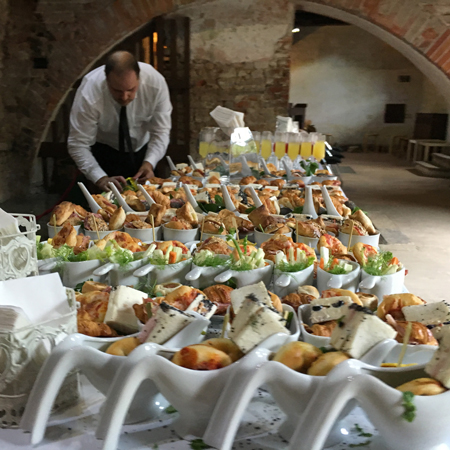 Event Catering Milan
Mobile event catering presenting a wealth of experience in gastronomic & cultural events
The perfect event catering solution, delivering a first class culinary experience for your bespoke event
Concept Catering to leave a lasting impression, all of our dishes are prepared using raw materials of your proposed ethnic origin
Allow your tailored event cuisine to stand apart with unique flavour, modern design details & aesthetics to wow your party
Customised catering solution for your corporate entertainment in Italy, presenting sumptuous & sustainable food from our professional kitchens
Event Catering Milan PHOTOS
Impress guests at your bespoke event with our incredible mobile event catering service, the perfect customised catering solution for your personalised entertainment. Our bespoke event catering brings thematic, tailored event cuisine to your chosen venue, offering first-class concept catering for your special occasion.
Our exclusive Mobile event catering team present a wealth of experience in gastronomic and cultural events, exploring the most varied ethnic traditions, from original recipes to modern culinary fusions. 
We offer the perfect event catering solution, delivering a first-class gastro experience for your bespoke event, with a focus on preparing and cooking all of our dishes with raw materials typical of the the ethnic origin proposed. We also pay particular attention to pairing drinks that are most fitting for the native experience of the ritual of food. 
Our ethos stems from the belief that the pleasure of food begins from the visual experience so a strong emphasis is put on the aesthetics of each dish, focusing on modern design details as well as unique flavour, ensuring your tailored event cuisine stands apart!
Behind every client proposal is a direct experience, collection and collaboration with travel, our study always starting from the historical roots, traditions, climate, influence of people and the evolution of the kitchen of a country. Essentially our concept catering tells a story, emerging through the dishes served at your bespoke event. 
Our professional catering team will guarantee the highest quality service in mobile event catering, delivering your guests a taste sensation with freshly sourced produce of any given theme. Concept catering to leave a lasting impression, adding an element of style and intrigue to your special occasion. Your specific catering needs will be accurately delivered, creating the very best experience of tailored event cuisine for your party to remember. 
We create our incredible cuisine as a customised catering solution for your personalised entertainment, specialising in producing foods for tailored events throughout Milan and across Italy, including receptions, launches, presentations, conferences and private parties, where all of our service staff will be provided on request. 
Practical Tips
We don't have a limit or maximum number of guests as we are used to catering for large numbers
Catering staff provided
Tables, table cloths and all tableware inclusive 
Complete customisation to suit your chosen theme 
Contact us at Scarlett Entertainment & Events today to talk about booking Event Catering Milan for your corporate team day or personalised event.