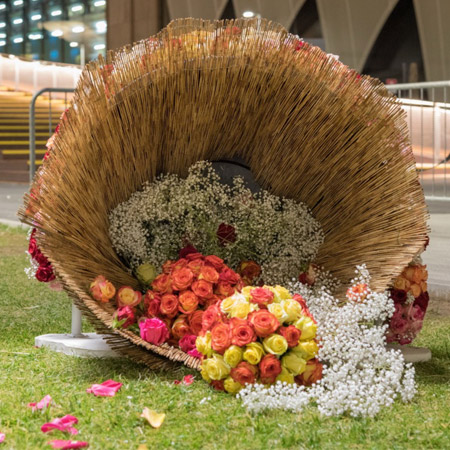 Event Decor Italy
An exceptional event decor service, delivering the perfect combination of aesthetics for your bespoke event
Event Decor Italy offers a completely tailored service with a focus on thematic events, driven by creativity and professionalism
Enliven your personalised event with unique floristry and stylish creations that are fitting with your theme
Creative, flavourful, conceptual design and floristry in various formats, exclusively developed for your customised entertainment
We provide concept collections, flowers and props, perfect for corporate events, weddings and private parties
Treat your guests to a unique corporate event by offering a visual display to remember with our exceptional event decor service, delivering the perfect combination of aesthetics for your bespoke event. We present flavourful, conceptual design and floristry in various formats, exclusively developed for your customised entertainment. 
An innovative floral and event decor service focusing on creating concept collections for your personalised event. Our tailored event decor combines vibrant blooms with an array of stylish creations and props, delivering a thematic event that stands apart. Unique and vibrant decorative flowers and materials will offer an unforgettable visual experience for your bespoke event. 
Our exceptional event decor service will deliver floral arrangements and bespoke materials such as custom-made coloured ribbons, lanterns and columns to enliven your personalised event. We will create unique floristry and stylish creations that are fitting with your theme, ever evolving, our aim being to stay one step ahead. 
All clients have the opportunity to preview the graphic project and understand how it will transform their venue space or location. Our preliminary step is always to listen to the client's desires, working closely towards their specific brief, offering creative solutions, in line with requirements and the project budget. 
Ensure your corporate event decoration leaves a visual imprint, whether you're holding a cocktail party, reception or exclusive company launch. Our unparalleled event decor will be sure to deliver an aesthetic service reaching beyond exceptions.  
Customise your corporate event or exclusive party by defining your chosen theme. Event Decor Italy offers tailor-made floristry and conceptual materials, suited to your special occasion, for an unforgettable experience. 
We provide the following services and props for your bespoke event:
Floristry 
Bespoke materials & props 
Conceptual event decor
Candles
Lanterns
Vases
Columns 
Coloured ribbons 
Contact us today to talk about booking Event Decor Italy for your corporate team day or personalised event.