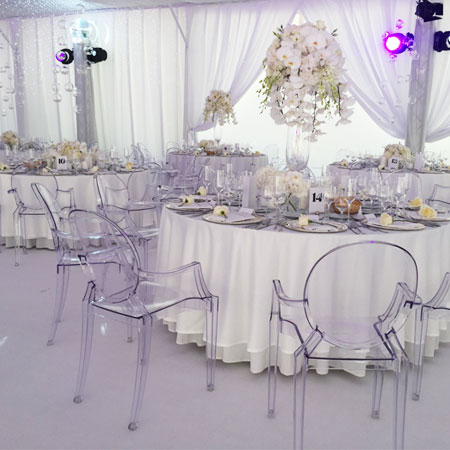 Event Props Bratislava
Ensure your bespoke event is styled for comfort with our exclusive party tents, chairs, tables, dance floors and accessories
Create the perfect atmosphere for your special occasion with event props and creative decor to leave a lasting impression
Offer the best solution for your unique event with our range of tents and seating, including classic party tents, Igloo tents and Pagoda tents
We deliver first-class props and classic party tents for for your corporate event, wedding, exclusive launch or private party
Our premium props, accessories, stages and party tents will allow your customised entertainment to stand apart for a memorable event
Event Props Bratislava PHOTOS
Set the tone for your bespoke event with a formula that is fitting. We offer stylish event props and party tents for a unique atmosphere. Creative decor and tailored accessories will offer the ideal solution for your customised entertainment in Bratislava. 
Ensure your bespoke event is styled for comfort, creating an atmosphere your guests will be talking about for weeks to come with our exclusive party tents, chairs, tables, dance floors, stylised interiors and accessories! The addition of our custom-made event props and creative decor will be sure to leave a lasting impression for your special occasion. 
We supply a range of inventory such as chairs, tables, dance floors, cooling, heating and other accessories needed to complete your setting, specialising in creating the perfect ambience for a thematic event. Whatever your occasion, we pride ourselves with delivering first-class props and classic party tents for your corporate event, wedding, exclusive launch or private party. 
Every event is important to us, meeting the expectations of our clients being our main focus. We realise that each event is unique, so we are continually trying to find the best solution, including ground plans and 3D visualisation. 
Why not offer your party the very best of themed props for your tailored event with our stylistic range of tents and seating, including Classic Party Tents, Igloo Tents and Pagoda Tents? Additionally we can also supply flooring, carpets, stages and dance floors along with chairs, tables, beer sets and stand-out accessories, all the while ensuring your guests stay comfortable with heating, cooling, lights and decorations. 
Our talented team provide an innovative service, exploring new themes to bring your event to life, always working closely to the client brief, with a focus on translating the needs of the customer into a unique thematic setting. We deliver a completely customisable service and personalised approach from the initial ground work to the completed aesthetic of your tailored occasion, our goal being to bring your initial ideas to realisation at your venue of choice. 
Our premium props, accessories, stages and party tents will allow your customised entertainment to stand apart for a truly memorable event. 
Entertain in style and comfort with Event Props Bratislava!
We hire the following props and decor for your special occasion
Classic party tents in widths of 6, 8, 10, 15 or 20 metres with a glass or transparent side wall
Party tent in dimension of 10 x 20 m with glass side walls and a flat roof
Pagoda tents with dimensions of 5 x 5 m with glass or transparent side walls
Igloo Tents with average measurements of 11m 
Floors
Carpets, stages, dance floors, 
Chairs, tables, beer sets
Accessories such as heating, cooling, basic lights and decorations
Complete customisation of service is available for your exclusive booking
Contact us at Scarlett today to talk about booking Event Props Bratislava for your corporate team day or personalised event.