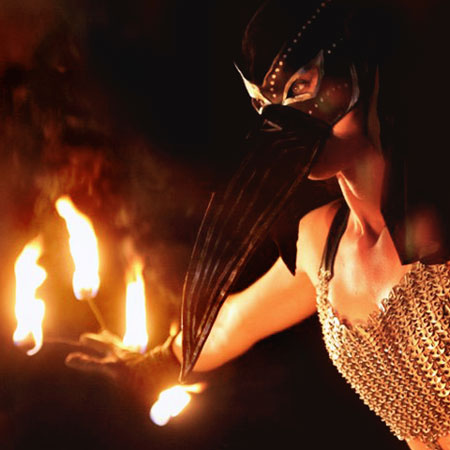 Female Fire Performer
Multi-talented female fire eater, breather and dancer offers a variety of fire dance shows
Spectacular fire routines carefully executed with exquisite elegance and grace
Also available as a fire dance duo, our performer can share the stage with other artists
Ideal fire entertainment for corporate events, festivals, weddings, dinners, street celebrations, private occasions, etc.
This Female Fire Performer is based in Berlin and available for bookings in Germany and worldwide
Female Fire Performer PHOTOS
Bring light to your upcoming celebration by booking this fantastic Female Fire Performer, a versatile entertainer who captivates audiences with her graceful and dazzling displays.
An all-in-one performer, this versatile artist is a female fire eater, breather and dancer. She plays, sways and dance with fire with elegance and exquisite grace. Her perfectly and carefully choreographed fire routines are a spectacle well wroth seeing and something that can be enjoyed by people of all ages.
Making use of a variety of fire props, our female fire performer emerges out of the darkness into the light. With a comprehensive selection of outfits and masks, our dancer can fit a variety of themes and occasions.
Our female fire eater and dancer offers different fire dance shows for different types of occasions. She has different choreographies especially created for weddings. Numerous brides and grooms have trusted her in the past to perform at their weddings and add that something special the occasion requires.
Also available as a fire dance duo, our multi-skilled fire dancer regularly shares the stage with other fire performers. Able to adapt to different spaces, our dancers delight viewers with their luminous performances, incredible tricks and stunning visual effects.
Fire entertainment is especially suitable for a variety of celebrations including weddings, festivals, outdoor events, theatres, corporate occasions, and many more! Whatever the occasion, our multi-talented fire performer never fails to impress and keep viewers mesmersied with her elegant routines.
At Scarlett Entertainment we pride ourselves on providing a high-end fire entertainment for events and occasions in Germany and all over the world.
If you would like to book this sensational Female Fire Performer, don't hesitate to get in touch with us today. Our in-house team of Entertainment Experts will be more than happy to provide further details on this entertainer's different fire dance shows and assist you in the booking process.