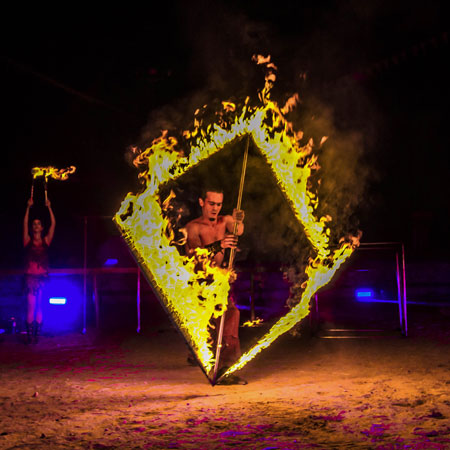 Fire and Juggling Show
Professional performers who transform any space into a small circus
A spectacular fire, lights, juggling and pyrotechnics performance
The impressive style and mood of these artists have no boundaries
Great entertainment for all the family at festivals or street carnivals
Based in Spain and Portugal and available to perform at events worldwide
Fire and Juggling Show PHOTOS
A show of pure action, which seeks to maintain 100% of the audience's attention. Circus of Fire is a show for all audiences, ideal for evening presentations. It consists of exciting numbers that mix dance techniques with juggling, manipulation, fire-breathing, humour and direct contact with the audience. Played by two performers and jugglers with over 13 years of training, they perform this dangerous show very safely, yet full of stunning visual effects, dignifying the motives of the acts with fire.
The full show lasts 50 minutes, but they also adapt to any occasion, changing the length of time and costumes.
These professional performers transform any space into a small circus, where laughter, risk and spectacle are guaranteed in all of its actions!
The style and mood of these artists have no boundaries and have captivated audiences of all ages. They have researched, created, travelled, laughed and also cried to get their magnificent theatrical shows presented at various festivals of street theatre and circus.
Lume:
"Lume" is a spectacular Fire and Juggling performance, a show of juggling with fire and lights, pyrotechnics, fire-breathing, and testing the nature of fire. The show, which last 30 minutes, creates a real spectacle and engages any audience member watching. Performers breathe huge balls of fire, juggle neon lights, twist and twirl huge fiery 3D cubes high in the air and create amazing patterns.
The show is suitable for a range of events, including theatrical street shows, festivals, carnivals, family shows, corporate events, private parties and much more.
To book our spectacular fire artists, contact our dedicated entertainment coordinators today.