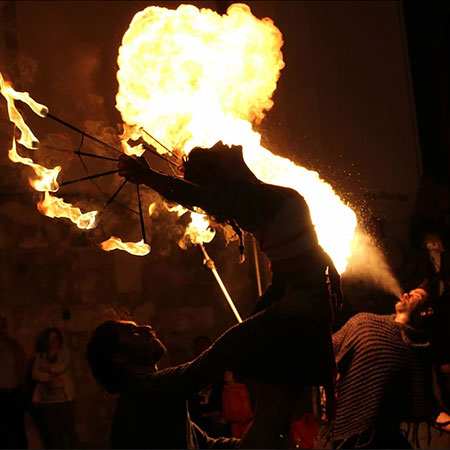 Fire Dancers Italy
Visually stunning combination of fire dance and acrobatics keeps guests mesmerised
Able to adapt fire dance shows to different spaces and customise them so they fit your theme
Acrobatic fire dancers and fire breathers can perform alongside live musicians
Dancing with fire is popular for weddings, street celebrations, festivals, outdoor events, etc.
These Fire Dancers from Italy are available for bookings nation and worldwide
Fire Dancers Italy PHOTOS
These Fire Dancers from Italy will illuminate your event or big celebration with their fire dance shows, a visually stunning display of fire dance and acrobatics.
Performed by experienced acrobatic fire dancers, these spectacular shows are a mesmerising combination of fire dance and acrobatics. Through flames and body language, our dancers can create a romantic atmosphere that is especially suitable for weddings. Their fire dance shows are true spectacles that are guaranteed to create a big impact that will blow audiences away!
Making use of different fire props, our fire performers' routines are truly remarkable. Including fire fans, fire poi and fire breathing, their acts go beyond simple fire entertainment and keeps spectators hypnotised from start to finish.
Able to adapt their fire dance shows to different performance spaces, our artists can also adapt to different themes and create bespoke routines especially for your special occasion. On top of that, their performances can also include live music!
Especially suitable for outdoor events, dancing with fire is a popular entertainment option for festivals, street celebrations, weddings, and many more! Many brides and grooms have trusted our fire dancers and fire breathers to perform at their wedding reception, adding a unique visual element to their celebration and make it extra special.  
Scarlett Entertainment offers a wide range of dancing with fire options for events and occasions in Italy and all over the world.
If you would like to book these Fire Dancers from Italy, then don't hesitate to get in touch with us today and make an enquiry. Our dedicated team of Entertainment Experts will be more than happy to answer all the questions you may have about our acrobatic fire dancers and assist you in the booking process.
Carnival of Putignano (Italy)
Italian Cultural Institute of Montréal
7th International Theatre Festival of  Mont Laurier 2015 (Mont- Laurier - Canada)
1th  Sharm El Sheikh International Theatre Festival for Youth "Best production award" "Best first actress" and "Best second actor" 2016 ( Sharm El sheikh - Egypt)
III International Theatre Festival of Commedia dell'Arte (Rome - Italy)
14th ProContra International Theatre Festival "Best production award" (Stettin- Poland);
And many more...
Nastro Azzurro : Nastro Summer Experience
Medieval Festival "Fiera del Crocifisso Ritrovato" (Salerno - Italy)
Italian Cultural Institute of Tirana
DOIT Festival 2015  (Rome - Italy)
XIII Winter Theatre Meetings 2016 in Opole (Poland)
Peltuinum Theatre Fest 2016 (Italy)
Teatro Pubblico Pugliese (Italy)
Festival Della Partecipazione (Aquila - Italy)