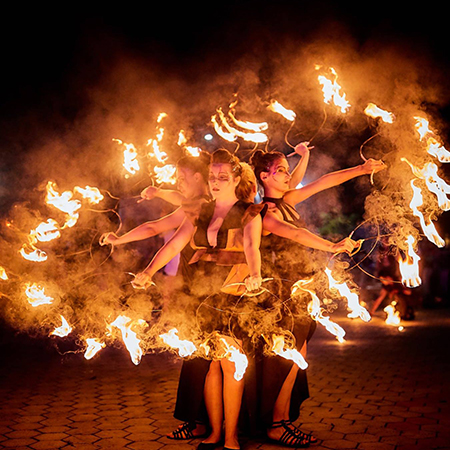 Fire Empire
Spectacular and mesmerising fire theatre act blends various fire manipulation disciplines, dramatic music, unique staging, fireworks and more!
Fire dance show begins with a parade and develops into various fire dance routines
Loved by people of all ages, this fascinating spectacle causes greater visual impact if performed under dim light conditions
Perfect entertainment option for street celebrations, festivals, theme parks, corporate events, etc.
Fire Empire is available for bookings in Romania and all over the world
Amaze crowds at your event with this extraordinary mix of fire manipulation disciplines. Fire Empire is not only a fusion of styles: it's a fire dance performance with a powerful narrative and a unique combination of stage and walkabout acts. 
An explosive fusion of various fire manipulation disciplines
This spectacular fire dance show is performed by a group of experienced fire performers including fire eaters, fire breathers, jugglers, dancers and acrobats. Making use of different props, these skilled entertainers tell a story whose protagonist is the queen of an empire. 
Accompanied by dramatic music, this fire dance performance is guaranteed to become the highlight of any celebration. Especially suitable for dark environments, this fantastic fire theatre production causes greater visual impact if carried out under dim light conditions. 
Stage and walkabout entertainment combined
This stunning fire dance show begins with a parade that will instantly catch crowds' attention. This spectacular start develops into various fire acts executed by performers mastering different fire manipulation disciplines. 
Both little ones and adults will watch in amazement as this fire theatre production takes shape with various routines. Fascinated by this dazzling display of flames and sparks, audiences will let themselves be in awe as they witness this mesmerising fusion of fire effects and fireworks.
Especially suitable for open-air spaces, this fire dance show is the perfect choice for festivals, theme parks, street celebrations and other big events taking place outdoors. Happy to adapt to smaller and indoor spaces, our performers can also perform individual acts at your event upon request. 
Hire fire performers for your event 
If you would like to hire fire performers for your next event, get in touch with us today and make an enquiry.