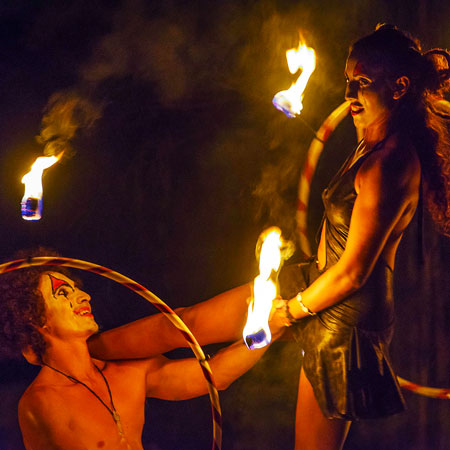 Fire Hoop Duo
High-impact fully choreographed performance will blow audiences away!
Show incorporates 5 different props: fire fans, staff, hoops, poi and ropes
Have performed as part of the world-renowned Ozora Festival Circus Team
Also offer LED options, daytime performances, classes and workshops
Based in Bali and India and are available to perform at events worldwide
Originally from South Africa and now based in Bali and Singapore, this professional fire dance duo have been touring the world amazing audiences as little as ten to as many as several thousand with their uniquely spectacular fire show.
Incorporating five different props including fire fans, staff, hoops, poi and ropes this duo has created a fully choreographed high-impact show with precision dance moves and a dramatic adrenaline-filled finale! They will have spectators gasping in amazement as they expertly twirl, throw and spin their fire props in a flurry of perfectly synchronised moves creating magical burning shapes in the air as they go. Their performance also incorporates elements of acrobatics and balance, which adds an extra element of danger to their already daring show!
A testament to their amazing skill and professionalism, this duo have had the privileged of working with the world-renowned Ozora Festival Circus Team where they were able to develop their performance alongside talented artists from all over the world.
In addition to their fire performance they can also offer LED performances; mesmerising daytime performances with a fun repertoire of hoop skills and manipulation; and workshops and classes, which are perfect for corporate incentive days.
To book these special performers for your event contact our team of Entertainment Experts.