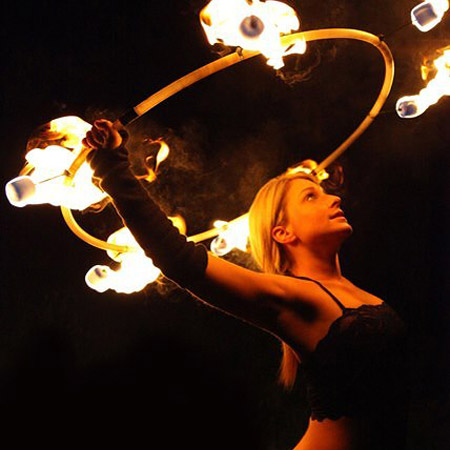 Fire Performer USA
A unique and exhilarating fire show that will leave guests talking.
Highly skilled fire performers that provide incredible and enchanting fire dancing.
Fire artists that use flaming hula hoops, fans, staves, levitating wands, and more.
Phenomenal fire act that will bring the heat for any sized event.
Fire dancers based in North America and available to perform at events worldwide.
A thrilling fire act that features our world class fire dancers that will manipulate open flames for your amusement. Our fire artists have been highly trained and will bring an edgy but glamorous performance to your event that will leave guests sweating with excitement. Our one of a kind fire performers will captivate your guests while showcasing their expertise while spinning, dancing, and twirling the most dangerous element on earth for a dazzling fire show.  
 
Offering fire-based shows unlike anything you've ever seen, our fire dancers will bring along a variety of fiery props including flaming hula hoops, fans, fire poi, staves, levitating wands, and so much more. A fiery act that will surely impress.  
Our pyro shows also have the included options of throwing in fire eating or fire breathing will ignite your event to the top leaving guests at the edge of their seats. All of our professional fire artists have of course gone through highly skilled training courses to guarantee nothing but fun fire entertainment for your upcoming event or gathering. Our world class fire entertainers are versatile and should be able to fit into any theme you have planned.    
Providing fantastic entertainment from private parties to full-blown stage shows, our fire artists will hypnotize your audience with the beauty of fire leaving them unspeakable, hearts pounding, and completely amazed at the fire play in front of them. Our shows will bring a breath taking environment for guests as they get better acquainted with fire.    
At Scarlett Entertainment we're dedicated to bringing you the best in fire entertainment that includes fire eating, fire breathing, and a variety of fire acrobats. If you're interested in booking our Fire Performer get in contact with any of our fantastic team members who will help you bring the flame for your next event or party.