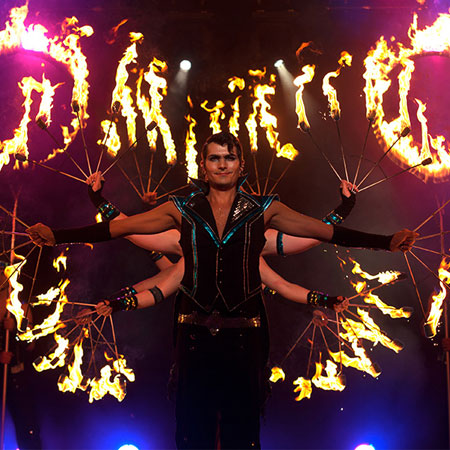 Fire Show Berlin
Incredible choreographies & fire stunts will WOW audiences
Offer a range of themed shows, walkabout acts & stage productions
Can perform indoor shows with minimal smoke & fumes
LED shows incorporating lettering & logos
Based in Berlin & available to perform at events worldwide
These talented fire performers give a exciting WOW factor performances that will amaze and captivate any audiences. Daring fire stunts and incredible visual effects will have audiences gasping in amazement and leave them wanting more.
They offer a range of themed shows featuring brilliant costumes, dynamic theatrics and daredevil fire stunts creating an exhilarating and dramatic atmosphere. Their shows feature a range of different fire tools from fire rods, balls, discs and wheels, to pyro. They can also perform a glow show using LED and UV lights, incorporating letting, graphics and logos. Each shows is extremely versatile, it can be performed as a walk around act, small stage show or large production depending on the client's needs and the size of the venue. The majority of their shows are performed outside, however they can offer an indoor show featuring the latest technology and fire safety and minimal smoke and fumes.
Gold Rush
Exhilarating fire show performed to a soundtrack of Bollywood, classical and pop music with dynamic dance choreography. Featuring flaming trays, sparks and more this spectacular show is suitable for both indoor and outdoor events.
Love Story
The greatest love story of all - a lonely woman and swashbuckling man! Sensual, daring choreography, fire stunts and audience participation, this show will liven up your romantic themed event.
Fantasy
Fire elves journey through enchanted forests with flames in hand. Extravagant costumes and beautiful fire displays, this outdoor show is magical and will appeal to audiences of all ages.
Solo
Flaming fire balls and discs paint the air red hot. Hissing yellow wheels and flickering sparks dance before the audience's eyes. This incredible show is suitable for both indoor and outdoor events.