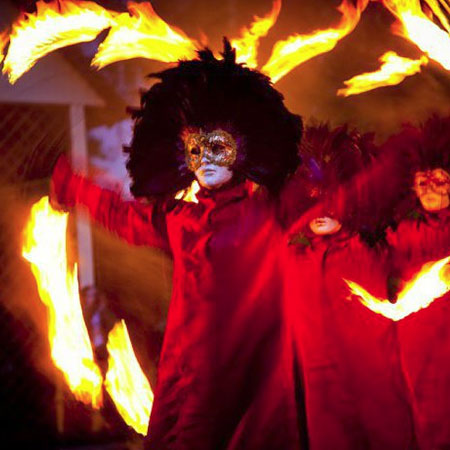 Fire Show Moscow
Combines acrobatics, gymnastic tumbling, fire juggling & fire spinning
Clients inc Mercedes-Benz, Elle, McLaren, Red Bull, RBS, BP and Adidas
Media appearances include MTV awards in Madrid with Katy Perry
Show can include an exclusive-pack of drummers with burning sticks!
Based in Moscow, Russia & available to perform at events worldwide
Why not add an element of excitement and danger to your event by hiring this world class fire show.
Designed to inspire and amaze audiences, this fire show is the ideal entertainment option for those looking for serious 'wow factor'.  Based in Moscow the performance combines acrobatics, gymnastic tumbling, fire juggling & fire spinning and has all the ingredients for a spectacular fire show.  Perfect for corporate events, street festivals, weddings and product launches where clients want to create a unique visual spectacle and a lasting impression for guests!
This amazing fire show is has been booked internationally in UAE, Qatar, Oman, Hong Kong, Singapore, UK, France, Italy and in more than 30 cities throughout Russia.  A selection of their previous high profile corporate clients include Mercedes-Benz, House of Fraser, Elle, Land Rover, McLaren, Red Bull, RBS, BP and Adidas.
Solo show
The show includes the decoration of area with fire candles – bowls (the fiery circle), the performance with various fiery props, the use of gymnastic and circus skills (maces juggling, fire blowing, fire hula hoop, skipping rope), pyrotechnic fountains of both simple (3m 30s) professional staged and powerful three-phased (1 min), smoke flares, pyrotechnic props.
Wedding interactive (heart, fountains) with the newlyweds is possible. 
Duet (two girls or a girl and a young man)
It also includes different fire props (plus synchronous staged dancing with fire), area decoration and pyrotechnic (fountains, smoke flares, hand props). 
Costumed staged fiery pyrotechnic show.
Program of 3 – 6 artists
It is complemented by synchronized dance performances, original costumes (Venetian masks, cloaks), pyrotechnic props (fans, poi, poles) and fire props (hula hoop, skipping rope, juggling, fire-blowing, etc.).
Wedding program includes an interactive with the newlyweds and guests (heart, fountains, «fire rings»).
BMW
House Of Fraser
Elle
Mercedes-Benz
Red Bull
Smirnoff
Thomas Cook
Wrigley's
BP
Performed for many high-end brands in many countries including:
Belgium
Dubai
Holland
Indonesia
Italy
Lebanon
Malta
Poland
Portugal
Singapore
Sweden
Turkey
UK
Media appearances include:
Walking for Elephants premier
Chevrolet billboard launch
ITV -  Cabot Circus advertisement
Disney Channel Children's Awards
Golden Circus festival
Honda
Land Rover
McLaren
National Theatre
RBS
Walkers
Superdrug
Adidas
Abu Dhabi
Cyprus
Gran Canaries
Ibiza
Ireland
Hong Kong
Macau
Morocco
Phillipines
Qatar
South Korea
Thailand
Vietnam
MTV awards Madrid with Katy Perry
BBC 1 National Lottery Awards
Elle Magazine
ITV –Circus Promotion
Channel 4 Sweden 'Nyhetsmorgon'
Muscat Festival