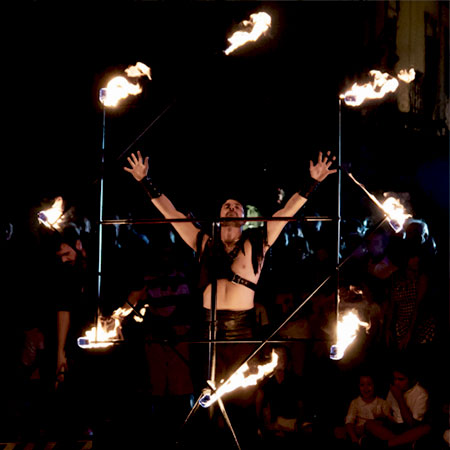 Fire Shows Italy
Extremely skilled and creative Italian fire performers offer both solo and group fire dance shows
Experienced fire dance group are experts in fire manipulation and can perform with fire torches, sticks, fans, etc.
Performances can be adapted to different spaces and are loved by audiences of all ages
Dancing with fire is a popular entertainment option for weddings, street celebrations, festivals, private parties, etc.
These Fire Shows are available for bookings in Naples, Italy and worldwide
Illuminate your upcoming event with the spectacular Fire Shows offered by this team of Italian fire performers. Specialists in dancing with fire, our fire dance group consists of experienced artists who share a passion for circus arts and love exploring new disciplines and new techniques!
Our fire dance group offers two different fire dance shows:
Fire Sparks: a performance that recalls the explosion that gave rise to the sun, this fire dance show is an ode to the dust from which the earth and other elements were born. A routine that combines different fire figures, this solo act is a mix of illusion, science and great beauty! Visually stunning, this act is performed by a remarkable performer who is guaranteed to leave viewers speechless when they perform dynamic routines wrapped in flaming fire!
Street Fire: a fire dance show that was born from the union of our Italian fire performers, this performance is the result of shared experiences and artistic ideas. Specialising in various artistic disciplines, our fire dance group are experts at fire manipulation. By using different props and accessories such as fire torches, sticks and fans, our dancers have joined forces to offer show that merges all their talents!
Suitable for a wide range of events, our experts at dancing with fire are a popular entertainment option for festivals, weddings, street celebrations, private parties and other outdoor events! Our Italian fire performers are happy to adapt their routines to different spaces and perform for both small and large audiences.
Scarlett Entertainment offers a variety of fire dance shows for events in Italy and all over the world.
To book these sensational Fire Shows, don't hesitate to get in touch with our Entertainment Co-ordinators today and make an enquiry. They will be happy to answer all your questions about our Italian fire performers and assist you in the booking process.