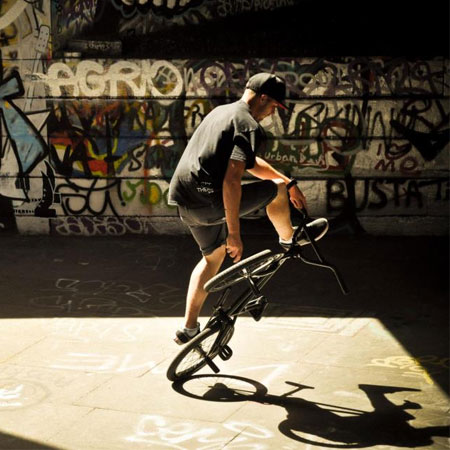 Flatland BMXer
Performs disciplines inc Flatland BMX, Free Running, Break Dance & Trails
Well suited to stages, dance floors, school events and shopping centres
Can become an effective marketing tool for your company or brand
Previous clients inc Toyota, Disney, Lloyds TSB, Animal Clothing...
Based in the UK & available to perform at events worldwide
Our Professional Flatland BMXer & Guinness World Record Holder who competes & performs shows at the highest level worldwide. He's appeared on Live TV channels and even had a show on Nickelodeon called get your skills on along with this has done commercials for well known brands. His method of facing BMX flatland is almost philosophical. For him it is not just aerobatics on a bicycle. He defines his sport as "a fight between mind, gravity and physics combined with movement. 
Acted:
BMX Flatland is the ultimate form of bike control and often likened to breakdancing on a bike, It's regarded as more of an artform than other styles of BMX, with an emphasis on creativity, style and originality.
The rider performs an array of tricks that involve manoeuvring the bike in to crazy positions, and doing incredibly fast spinning combinations with out any hands on the bike, that will leave you shocked as to how they manage to stay in control!
A standard Flatland shows doesn't require any set other than flat level area, this versatility makes it perfect for almost any occasion. Particularly suited for dance floors/halls, school playgrounds and shopping centres.
Disney
Bank of Scotland
Drift Innovations
And many more...
Toyota
Lloyds TSB
Animal Clothing
Infinity pro bands
Locog - London Organising Committee of the Olympic Games