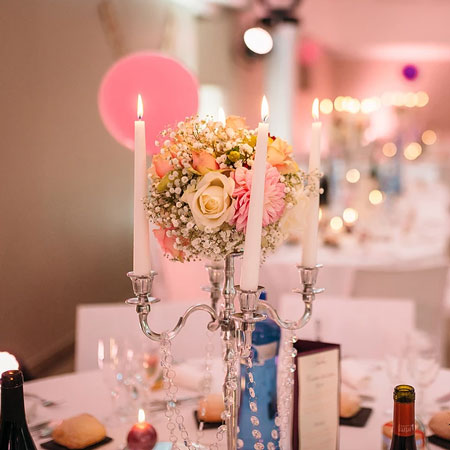 Floral Design and Venue Styling
Hire floral design and venue styling event décor for your next event
Choose from table décor, chair covers, mirror centre plates, flower arrangements and more
Stunning floral props available for weddings, private parties, corporate events, gala dinners and all occasions that desire floral décor
Various props available for all colour schemes
Based in Montpellier, France
Floral Design and Venue Styling PHOTOS
Choose from a variety of floral design and venue styling for your event décor. With table décor, floral props, flower arrangements and many more we can ensure that your next event is designed perfectly to suit your tastes and requirements.
Venue styling includes:
Various vases and flower arrangements for table centre pieces
Several chandeliers/candelabras/flower arrangements for table centres
Mirror centre plates - square/circle, small/large
Large easels for floor plans 
Lighting
LED lights to go in the vases, 10 different colours available 
Chair covers - Full covers in 2 designs and decorative bows in various colours - including pink, purple, green, yellow, silver, white, blue
Perfect for decorating your event no matter what the occasion, whether it be a wedding, corporate event, floral themed event, private party, gala dinner, award ceremony and everything in between – our stunning floral design and venue styling is guaranteed to make every venue stand out and become alive with gorgeous floral designs.
The perfect addition to every venue, our floral props can be tailored and matched to suit your event perfectly whether it be to complement and emphasise your colour scheme, create an idyllic atmosphere or to dress the room in stunning décor – we can accommodate your every needs. 
Booking Tip: 
For stunning floral design and venue styling for your next event, choose from our extensive range of table décor, floral props, chair covers and decorations to transform your venue into your dream event.
Mix and match table props and event décor to create a venue design that is specific to your tastes and preferences
Choose from an extensive range of floral props 
Personalise and choose the decorations you like 
Advise from professionals on what looks are most effective and how to achieve them
Tailor made decorations
Candy bars and sweet tables also available
To hire our personalised floral design and venue styling service or floral props contact our Entertainment Specialists today.