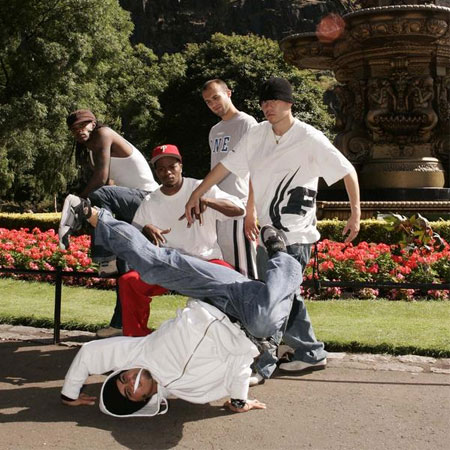 Freestyle Dance Group
Collective of specialist dancers each with international acclaim
Incredible crowd-pulling shows are exciting and innovative
A real highlight for any event: corporate, launch, ball or party
Styles include bboying, popping, robot, free-style, old school hip hop...
Previous clients inc Sony, Armani, Bahrain F1, Pioneer, Sports Direct
Freestyle Dance Group PHOTOS
This group are one of the UK's top professional bboy and freestyle dance groups. They are a collective of specialist dancers each with international acclaim including world champions & world record holders. The dancers are chosen by skill, reputation and professionalism and, as a team, create an incredible performing show group.
The group offer highly flexible freestyle (unchoreographed) shows which are spontaneous, full of energy and can be performed in a variety of different types of locations, venues and spaces both outdoors and indoors.  Past performances have included exhibition battles, choreographed productions and freestyle shows.
The dance styles that they specialize in include bboying (breakdancing), popping, locking, robot, house, freestyle, old school hip hop, new school and acrobatics.
Together & individually, the London based Freestyle Dance Group have performed worldwide with numerous artists & companies, never failing to create & amaze audiences with versatile yet explosive performances.
They have incredible crowd pulling shows that provide a cutting edge and innovative solution to the rapidly growing need for versatile performance with high impact.
Armani Exchange Show
Sports Direct Fashion Show
Pioneer Steez sound System Launch
Sony Media Experience Rhodes
Bahrain F1 Grand Prix 2009