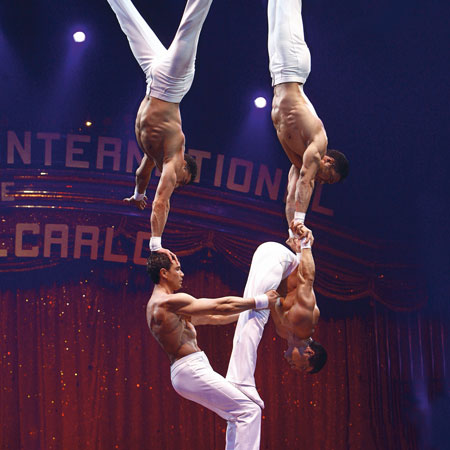 Hand Balance Brothers
Awe inspiring hand balance show will leave audiences speechless!
Stunning acrobats will amaze guests with their incredible displays of balance, strength and skill
World-renowned hand balancing act has toured with circuses and events all over the world including the NBA, Winter Olympics and has appeared on TV
Outstanding balancing act has even performed for Pop Benedict XVI in Vatican City
Book our incredible circus show for performances worldwide
Book this incredible hand balance show and bring an unforgettable spectacle to your event. This astonishing hand balancing act has amazed audiences all over the world as our performers use their immense strength and still to balance in seemingly impossible positions. Guests will be awestruck by this stylish and attention grabbing balancing act that promises to be an edge of your seat experience. Our talented acrobats are four brothers who display stunning feats of balance, strength and trust as they perform he most incredible lifts and single handed balances you will ever see. Book this extraordinary circus show and experience a spectacle that audiences around the world are raving about.
Our incredible acrobats are brothers who have been performing together since 1983, astonishing audiences with their unbelievable balancing act. Their dazzling routine involves the four brothers balancing atop one another to form gravity-defying shapes and positions. The strength and skill of our acrobats is second to none and their acclaimed hand balancing act has gone on to perform in some of the biggest venues and circuses around the world.
This hand balance show has performed with the Ringling Brothers and Barnum and Bailey Circuses in the USA, performing to 10,000 guests each night. They have also performed their jaw dropping circus act at the Festival of Monte Carlo, the Warsaw International Circus Festival, at the Winter Olympic Games in Turin and even appeared on Germany national TV. This exceptional circus show was even granted the honour of performing for Pop Benedict XVI in Vatican City. This world renowned balancing act are a must see performance and the perfect addition to any circus, cabaret show, dinner party or corporate event.
Scarlett Entertainment brings you a huge selection of circus entertainment and acts to dazzle your audience.
Contact our team now to arrange booking one of our brilliant acts.