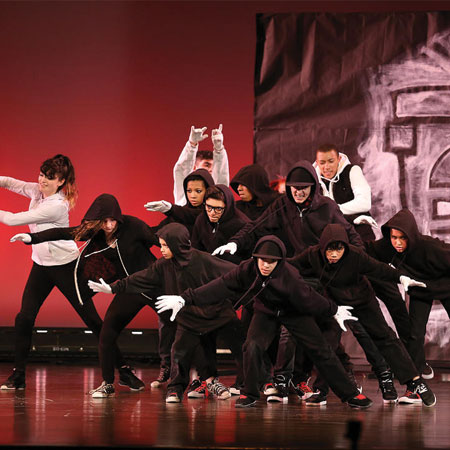 Hip-Hop Street Dance Group
Inspiring, motivating & interactive, this extraordinary dance company will uplift audiences of any age
Featuring 22 young performers, this awesome hip hop crew perform original choreography
The street dance shows include high-octane soundtracks, eye-catching outfits and professional lighting
Previous performances include Radio Revolution Showcase, Sky Sox Baseball Matches & Fox21
Based in Colorado & available to perform at events worldwide
Hip-Hop Street Dance Group PHOTOS
Creating their own dynamic and eye-catching choreography, this Colorado based hip hop dance crew have won the hearts of audiences all over the US. Beginning as a community dance group aiming to offer kids an opportunity to learn new skills and stay off the streets, this amazing urban dance company have reached for the stars and achieved amazing international success.
Expertly performing a range of dance styles including hip hop, mime, krump, step, break dance, tutting, tricks, waving and gliding, Scarlett Entertainment USA's expert team of trained dance artists have been rigorously auditioned to ensure that they are truly the best in the business. 
Tutored by world renowned choreographers, the 22 amazing dance performers in our Hip-Hop Street Dance Group will work to ensure that your festival, sports match, half time entertainment, theatre show or corporate event is as awe inspiring as it can be. A versatile performance group, these street dancers can be hired in any lineup, from a duo to a full ensemble and our dancers can create new routines to meet your specific event theme or brief. 
Having entertained at high profile events including Sky Sox Baseball Matches and Fox21 News "Friday Dance" Morning Show, this team of polished young hip hop dancers promise to make audience's jaws drop. Contact our event experts at Scarlett Entertainment USA today to find out more.
Top Tip!
If you are looking for an interactive entertainment experience for your event, why not hire some of our professional dance tutors to teach your guests some street dance or break dance moves?
2009 F.U.S.E. Youth Unity Rally
2010 Community Car Show & Music Showcase
2010 F.U.S.E. Youth Unity Rally
2011 HOLYWIN TOUR
2011 Knob Hill Community Concert
2011 The Throne Room Youth Conference
2012 Colorado Dance Alliance Featured Dancers
2012 Restoration Explosion Feat. Brinson
2012 HOLYWIN TOUR
2012 Denver Community Back To School Bash
2013 Dave Solon Kia Hamstars 2013 Colorado Tour
2013 Fox21 News "Friday Dance" Morning Show
2013 Africs's Girls Children Fundraiser
2013 Treasures Out of Darkness Youth Conference
2014 Air Force Academy NBHM Fundraiser Event
2014 Rap Music Recording Artist MVP Music Video
2014 Wedding Flash Mob
2015 NHIC Corporate Conference
2015 Colo Sprgs Kidney Walk Foundation
2011 2013 2014 - Esanola NM Community Outreach
Various Community Outreaches & Events
2007 Restoration Explosion Feat. Trip Lee
2010 Heaven Festival - 50000+ Attendees
2010 Colorado Springs Dance Showcase
2011 The Dale House Outreach - CMicah & SOCOM
2011 Shove Chapel Music and Dance Showcase
2011 Back To School Bash Community Concert
2011 Moriarty NM Community Concert
2012 Colorado Dance Classic Featured Dancers
2012 Brighton CO Community Outreach
2012 North Middle School Performance
2013 Colorado Dance Alliance Featured Dancers
2013 Sky Sox Baseball Game Entertainment
2013 Dave Solon Kia Hamstars Music Video
2013 SOCO CW Commercials World Arena
2014 Fall In Break Out Dance Showcase
2014 NGB Event Featured Dancers - Mr. Del Concert
2014 Woman's Pro Soccar League Halftime Show
2014 The Tea Corporate Fundraiser
2015 Radio Revolution Dance Showcase
2012 2013 2014 - Lamar CO Community Outreach
Various Church Events & Concerts
2008 Restoration Explosion Feat. Von Won
" Love this group!! Instructors are amazing, the music great, and the message the best!! Keep up the fantastic work! "

Gayla Limiac ***** (5 Stars)
" This crew has already touched so many hearts in countless communities, it is their purpose and passion. You can see it on them every single time. They are shinning stars for a purpose beyond measure "

Joseph R. Cantu