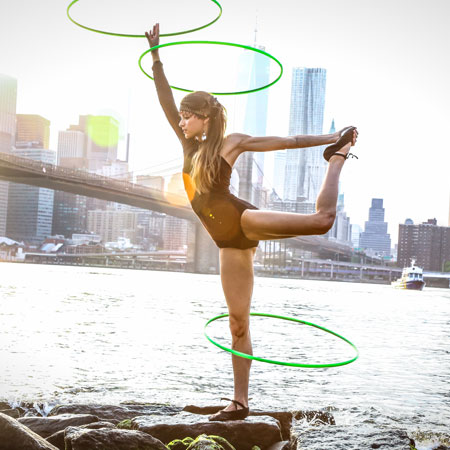 Hula Hoop Fire Show
Captivating fire performance will WOW audiences
Stunning visual spectacle will leave a lasting impression
Jaw-dropping demonstration of grace & athleticism
Custom costume design & original, authentic choreography
Based in New York & available for events worldwide
Hula Hoop Fire Show PHOTOS
New York based, this acrobatic hula hoop dancer and fire entertainer will set audiences alight with her captivating fire hoop show. The fire will create a stunning spectacle which is suitable for any event that is looking for something original to keep there guests on their toes or the edge of there seat. 
Complete with swirling, twists and turns audiences will be left wanting more. A jaw-dropping demonstration of grace and athleticism, her performances are the perfect entertainment to add a bit of heat and excitement to your event.
Combining multiple styles and themes, this versatile act comes complete with original choreopgraphy and custom designed costumes. This act can perform as a duo and if fire's not what you are looking for she can also use LED and circus hoops in her act to suit your requirements.
Looking for something in particular? Contact us today with your ideas and we can make it happen.
- Mountain Jam 2014
- Hoolistock 2013
Clubs & Dance Events including:
- Shadows Bar & Lounge Poughkeepsie NY. Hula hoop go-go dancing.
- Concert with hip hop artist Julian Rhine
Corporate & Community Events:
- Pedal Into Spring Coldspring NY (street fair)
- Pop Rock & DooWop Concert Series Newburg NY
- Glu-U International Conference Rhinebeck NY
Other:
- Busking (street performing): NYC New Orleans Boston Venice Beach
- RAW Brooklyn Artist Showcase
Music Festivals:
- Litchfield Jazz Festival 2013 2014
- Multiple events with BangOn! NYC. Performances have included fire hoop and LED hoop performances in front of crowds as large as 4000 people.
- Various events with High on 6th promoters based in Red Hook NY. Hula hoop go-go dancing.
- Bed Stuy Youth & Community Cultural Fair Brooklyn NY
- Hudson Valley Outfitters Fashion Show Coldspring NY
- Fun Fall Festival Fishkill NY
- Cirque Du Soleil Amaluna Premier After-party
- Exercise/Promotional video for the Shoulder Sphere
- Electric Forest Hoop Troupe 2014