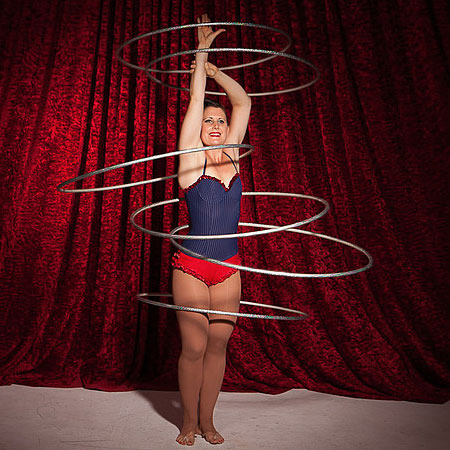 Hula Hoop Performer Australia
Wonderful hula hoop performer will turn heads and captivate audiences of all ages
Dazzling hula hoop act features a unique spin on the fast paced hoop routines
Incredible hulahoop performance will fill your event with laughter and joy
Perfect circus act for private parties, festivals, gala dinners & drink receptions
Book fantastic hula hooper for events throughout Australia and worldwide
Hula Hoop Performer Australia PHOTOS
Treat your guests to a wonderful and up beat hula hoop act that combines the best qualities of a grounded hulahoop performance and a more top notch circus act, creating the perfect balance between circus acrobatics and sensational hula hooping that will leave your guests breathless and impressed by our dazzling and beautiful hula hoop performer. A fun and sassy performance is what you will receive when you book our talented and skilled hula hooper to take the reigns at your event, building up an atmosphere created from joy and laughter as our performer moves across the stage at elegant speeds.
Performing her hula hoop act effortlessly, our fantastic hula hooper will amaze your audience with her high quality hooping skills, showcasing everything from a 6 split hula hoop separation to hand standing while hula hooping with her feet, nothing is off limits when it comes to our hula hoop performer putting together a dazzling and unique on stage or off stage performance. Showcasing her lovable circus act, she will also hulahoop 40 hoops around her waist with ease, a fantastic performance that will surely leave your guests with unforgettable memories and experiences.
Our wonderful hula hoop performer can also tailor her fantastic and jaw dropping performance to fit most themes and style guidelines, ensuring the performance you receive at your event is fresh and will fit alongside your event, helping create beautiful immersive qualities that will help grasp the attention of your guests quicker. Featuring her marvellous take on hula hoop dance and relaxation, our hoop performer will perform with pure dedication, sophistication, and passion. The perfect hula hoop act and circus act for private parties, corporate events, festivals, theatre performances, gala dinners, drink receptions, and more. 
If you are interested in hiring our beloved hula hooper for your upcoming event or gathering, contact our exceptions entertainment experts here at Scarlett Entertainment who will be more than happy to assist you.