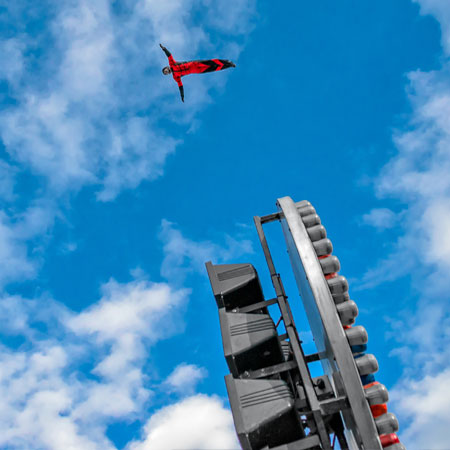 Human Cannonball Show
The longest and highest Cannon shots in the World, a powerful and extreme performance and a perfect closing spectacle for extreme events
Defying gravity and bringing PR to any event he performs in, this act is a must see, no one can take their eyes away from
With over 23 years of experience this performer free flies through the air at the speed of 55mph, height of 65ft and distances of 165ft
Has previously performed breathtaking shows at the 2012 Olympics and Rio De Janeiro's Carnival, flying through the air closing the ceremonies
Based in Texas and available to perform at events such as opening and closing ceremonies, corporate events, brand launches and more worldwide
Human Cannonball Show PHOTOS
With an incredible twenty-three years of cannon experience, this Human Cannonball is an extreme act for extreme events.
Making his living from being shot from a cannon; free flying through the air at speeds of 55mph, heights of over 65 ft, and distances of 165ft he defies gravity every time! Landing in a narrow net, set 20ft off of the ground, he then hits his target at the centre and takes off his helmet in a heartfelt victory salute.
Having performed at some of the world's biggest events, including the 2012 London Olympics where he brought the closing ceremony to a jaw dropping bang, he has also WOWED at Rio De Janeiro's 2014 Carnival competition, becoming the first person ever to shoot 6 times in 40 minutes atop a giant moving float.
Providing amazing, "must see" entertainment, our Human Cannonball Show is available to hire at a range of events looking for true WOW factor. Bringing instant PR attention to every venue he performs in, the Human Cannonball is one of the most exciting and unique spectacles around.
To find out more about how to book this act for your event contact our team of Entertainment Specialists.