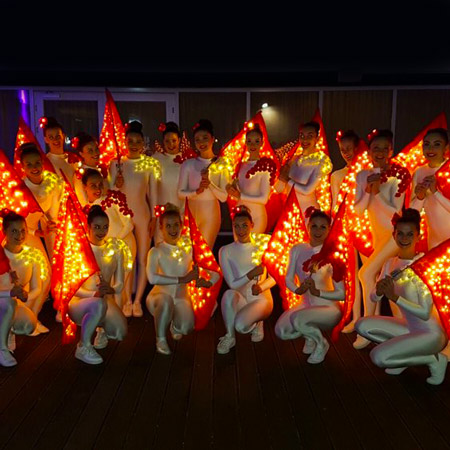 Illuminated Flag Dancers
Flexible collective of dancers with enchanting illuminated flags
Beautiful and graceful dance choreographies for stunning displays
Customisation options with different colour flags and costumes as well as branding options
Perfect for indoor or outdoor events ranging from brand launches to themed parties
Based in London and available for events all over the world
The spectacular Illuminated Flag Dancers offer a mesmerising and unique LED dance show that is superbly graceful with a high impact. The group of flag dancers offer beautiful dance routines with delicately light LED flags that are a joy to watch and guaranteed to capture the attention of your guests.
These stunning Illuminated Flag Dancers are so beautifully lit that they will enchant any event space, even in broad daylight, but more striking in darkness or night time. This unique LED dance show can be fully tailored to suit your event theme. All costumes can be altered in colour and theme and they can easily produce illuminated flags in colours to match company branding. The LED Flags can also be printed with logos and slogans giving a truly bespoke experience.
This luxurious performance from the Illuminated Flag Dancers is a high impact live performance that can be seen as a large ensemble or as a simple solo act. They are able to use the LED flags to perform on stage, as part of parades, at outdoor festivities or in amongst guests. 
The grandeur and glowing majesty of these LED flag dancers makes them perfect for award ceremonies product launches, sporting events and as an add-on to big events.  
Originally created for a run of European Christmas Parades, the versatile LED flag dancers have become hugely popular with corporate Christmas party entertainment, street festivals and private parties. 
Top Tip:
Book alongside the Illuminated LED Ribbon Dance for an altogether magical experience. 
Speak to one of our specialists at Scarlett Entertainment to book the Illuminated Flag Dancers for your event.