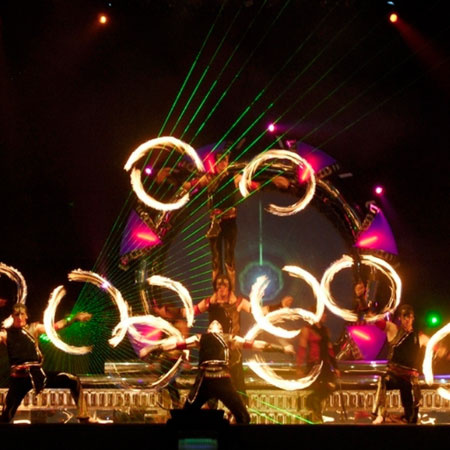 International Fire & Pyro Show
World leading fire/pyro show captivates audiences with high-energy action
Features many unique and exclusive fire, gas and pyrotechnic effects
Perfect for that hard-hitting spectacular explosive impact
Previous clients - Coca Cola, Mercedes, NFL Superbowl, G-20 Summit, Sony
Based in Austria and available to perform at events worldwide
International Fire & Pyro Show VIDEOS
International Fire & Pyro Show PHOTOS
From the first opening explosion to the last pyrotechnic crescendo, these shows captivate audiences with intense high-energy action. Raw flames become an extension of the human body as their dancers are passionately united with fire in motion.
Best described as a combination of dance, martial arts, movement disciplines, acrobatics, gymnastics and specialist fire techniques; their fire shows are complimented with classy costumes, stunning stage decoration and fully choreographed pyrotechnics, as well as backstage safety and professionalism of the highest degree. This international fire & pyro show is peerless in the world of fire-dance entertainment and features many unique and exclusive fire, gas and pyrotechnic effects.
Fire Show
The Fireshow delivers high-calibre impact with all the vitality of a glittering Las Vegas production. Sparkling, sexy costumes, vivid choreographies and stylish dynamic dancers make this memorable highlight fireshow an audience favourite time and time again.
Classical Fire
Classical fire is the pinnacle of fire show experience, the ultimately tasteful impact show in a league all of its own. This new symphonic fusion of vibrant dance routines, stunning costumes, beautifully staged special effects and explosive pyrotechnics is ideal for large-scale events, city festivals, high-class corporate occasions and everywhere where a classical impact is desired.
Arabian Fire
Arabian Fire, the originally dynamic show that merges the elegance and impact of the fire show with the mystical spirit of the Arabian Desert, has been created especially for Middle Eastern audiences. A powerful infusion of Oriental music and modern beats accompanies tasteful, high-energy fire performance. Female costumes fall into two categories: 'harem' & respectfully conservative.
Pyro Xcess
Perfect for that hard-hitting spectacular explosive impact, Pyro Xcess is your ultimate show highlight that guarantees audiences erupt in ecstatic heightened applause every time. Beautifully choreographed coloured sparks blast through the air with high-calibre motion. Often used as the sensational finale to our longer productions, this show ignites powerful music, movement arts and skilfully daring performers with world-class pyrotechnics.
Candle Dance
On-stage magic is captured in the simple glow of a candle. Gracefully emotive female dance becomes one with the pure energy of flame. This is a breathtaking performance, as mesmerising as fire is ancient. Elements from the Near East and Indian Subcontinent are synergised with the flexible beauty of modern gymnastics in a display of ultimate female elegance within firelight's sensual caress.
Phoenix Tribal
Phoenix Tribal is a journey into our ancient past, an earthy infusion of primal drum and dance steeped in the scared ritual of fire. Powerfully choreographed live percussion, acrobats and exotic dancers take audiences to an amazing climax of unified movement and rhythm. The show captures the very essence of mankind's most primal instinct – Tribal!
Fire & Steel
Fire & Steel is a crowd-thrilling fusion of highest-impact drumming and volatile performance. The dynamic raw energy of steel percussion is combined with our best acrobatic fire-dance choreographies. This show is perfect for medium to large venues where a fully impressive highlight show is required. Additional multimedia special effects include laser, pyrotechnics and projections.
Contact our in-house team of Entertainment Specialists today and request further details on these visually stunning spectacles.
Hilton Mauritius
Hewlett Packard
VW
Bank of Muscat Oman
Royal Albert Hall London
F1 Bahrain
BMW
Dubai Intern. Arabian Horse Championship
Silhouette Austria
Honda Riga
G-20 Summit St Petersberg 2013
IBM Las Vegas
Ford
Belfor Austria
NFL Superbowl Tampa Florida
NASA Congress Germany
Sony Ericsson/Burj al Arab
Kral TV Video Awards Istanbul
Asian Games Dubai
Cisco Dubai
Euro Launch Brussels
Dubai World Cup
Würth AG
Disney Vienna
Mercedes
Jeddah Festival Saudi Arabia
Roberto Cavalli Fashion Show Rome
Buena Vista Vienna
New Year's Eve Show Emirates Palace Abu Dhabi
Hahn & KolbGermany
Audi Dubai
PepsiCo New York
Bonnfinanz
Nokia
Coca Cola
Porsche
Red Bull Air Challenge Salzburg
Remax Toronto
Dubai Racing Club
Arabian Horse Show Ajman
Land Rover Frankfurt