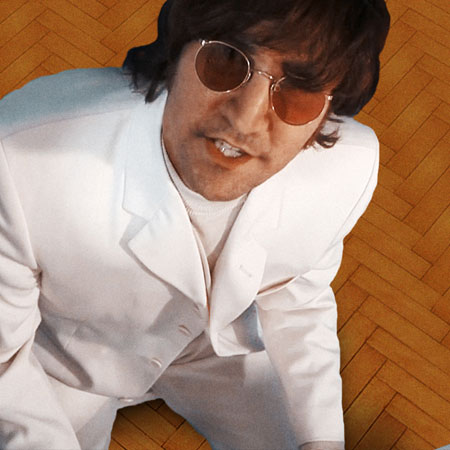 John Lennon Tribute Act
Bring star quality to your event with a spitting image, sound-alike, professional actor John Lennon double
Performing the superstar's greatest hits and more, our Lennon actor-impersonator celebrates the musical genius' songs in Beatles Band & Solo Acts
The perfect addition to themed parties, corporate functions, fundraisers & galas, providing Meet-&-Greet and Lennonesque Comedy as well as music
Previous clients include TV1-NYC, NBC TV-L.A., BAY TV-Liverpool, The Canyon Club, Blockbuster Video, Shooting Star Casino & more
Available to book for events in New York & worldwide
John Lennon Tribute Act PHOTOS
Scarlett Entertainment New York are a premium provider of professional tribute artists and celebrity impersonators for events within the United States and across the globe. Hire our John Lennon Tribute Act to ensure that the soundtrack to your event is one that guests actually want to listen to!
Identical to the legendary John Lennon in almost every way, our talented music impersonator has spent more than a decade perfecting the singing voice, look and recognisable scouse accent of the late, great superstar. Performing a wide repertoire of Lennon songs, from beautiful solo tracks like "Imagine" to Beatles classics like "Yellow Submarine", our tribute to John Lennon provides guests with an authentic taste of a real Lennon concert.
Dressed in the artist's iconic round glasses and out-there fashion ensembles, our tribute to John Lennon can be hired for everything from a meet and greet appearance or photo shoot to a full John Lennon tribute stage show. Whether you are planning a British themed party, or would like a famous face to entertain at your corporate function, gala or charity fundraiser, every guest will feel starstruck when they see our John Lennon lookalike in the flesh.
Having performed at many high profile events and venues, our John Lennon tribute has built himself a wide fan following of his own within the USA and Great Britain. To find out more about booking a Lennon tribute, Beatles lookalike or other pop star impersonators from Scarlett Entertainment New York for your event, don't hesitate to contact our knowledgeable event staff today.
A Hard Day's Night
Across the Universe
All You Need Is Love
And Your Bird Can Sing
Ballad of John & Yoko
Birthday
Come Together
Day Tripper
Don't Let Me Down
Eight Days a Week
Every Little Thing
Gimme Some Truth
Happy Christmas War Is Over
Help
I Call Your Name
I Feel Fine
I Should've Known
I'll Be Back
I'm Only Sleeping
If I Fell
Imagine
A Day in the Life
It's Only Love
Love
Luck of the Irish
Lucy in the Sky
Money
Norwegian Wood
Please Mr. Postman
Stand by Me
Strawberry Fields Forever
Tell Me Why
This Boy
Ticket to Ride
Twist & Shout
Walrus
Working Class Hero
Yer Blues
You Can't Do That
You're Gonna Lose That Girl You've Got to Hide Your Love Away
In My Life
Fox 11 KTTV – Los Angeles
ATLAS TV – España OurGenerationRadio.com
Telenor Scandinavia
Lennon's Bar Liverpool
BeatleFair - San Diego
Brit Fest - Ames IA
Hard Rock Café Orlando FL
Kalookis Beach Restaurant & Bar Provos TCI
Bungalow Club Los Angeles CA
Molly Spillane's Pub
Shooting Star Casino
Tulalip Casino
HeartStrings Music John Lennon Christmas Parties
John Lennon Celebrations in Central Park NYC
CA American Cancer Society Salt Lake City UT
TV1 – NYC
BAY TV – Liverpool
Blockbuster Video
Housman's Bookshop London
BlueCoat Museum Liverpool
Liverpool Days - Pasadena CA
Pacific Repertory Theater Carmel CA
UnUrban Café Santa Monica CA
4th of July Celebration - City of Westlake OH
Canyon Club Agoura Hills CA
O'Neil's Restaurant & Pub
Wind River Hotel & Casino
Muckleshoot Casino
Annual John Lennon Birthday Celebrations at Capitol Records
Summer Music & 911 Film Festival Los Angeles
Chavez Walk Los Angeles CA
NBC TV – Los Angeles
" Perfectly evokes both the spirit and imagery of John Lennon in one of the most original and effective tributes that I have ever heard and seen ... simply amazing. "

Ronnie Dannelley, Editor, EAR CANDY Magazine
" You should have been on the TV Show Vinyl John Lennon clip. Nobody does it better. "

Alan Merrill of rock band The Arrows, writer of song I Love Rock n' Roll
" The more you see and hear him, the more you believe. "

Wayne Proctor, We the People, premiere '60s psychedelic rock band
" He is an amazing, wide-eyed, cheerful and intriguing character who will keep you entertained for hours on end and make your mind boggle with wonder and excitement. His fascination with John Lennon draws you in and you can't help but get taken in and question if somehow... John has actually managed to get inside him :). "

Andrew Bowles, London
" I believe Lennon's spirit is with us, and I have seen him comment through others over the years. Thanks for being a vessel for him as others have been. "

Helene Lulo, New York
" In capturing John Lennon's essence, it feels as if he has downloaded him. There is no one in the world who brings John Lennon to life like he does. "

Sebastian St. George, Los Angeles Producer
" When he strolled the streets of Ventura, traffic stopped. "

Ivor Davis, The Beatles' Exclusive Tour Reporter, 1964-66
" If channeling is real, he WAS John Lennon ... he had the look, the mannerisms, and everyone was amazed, to say the least! "

Dave Mason, Host of the Beatles Radio Show on 101.5 KGB San Diego