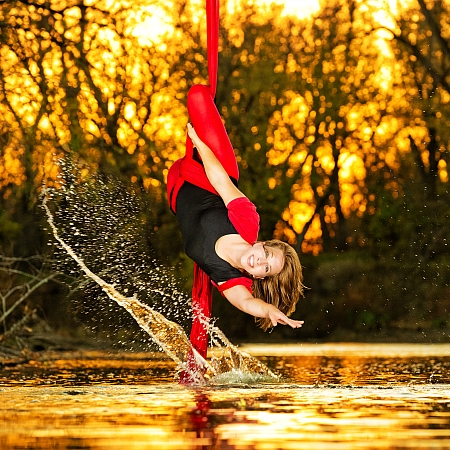 Juggler, Acrobat & Aerialist
First prize winner at the 2008 World Juggling Federation contest
First ever lady juggler to use flaming chainsaws for her juggling act
Covers basic juggling acts to the most hair-raising, death defying stunts
Previous clients include Carnival Cruises, Illumifest, Grand Falls Casino
Based in the USA and available to perform at events worldwide
Juggler, Acrobat & Aerialist PHOTOS
Get the Ball Rolling with a Variety Show Like No Other with a One-Woman Cirque du Soleil Show!
This is not your every day, one-size fits all show, this is an all-in-one entertainment extravaganza. Imagine a performer that literally bends over backwards to make a show specific to your event. Your product, services, and/or message are incorporated seamlessly into the show, allowing your voice to be heard in a memorable way. Now, stop imaging, because Juggler, Acrobat and Aerialist Laura can provide all of that and more.
An award winning artist in the field of stunt entertainment, Laura covers the most basic of juggling to the most hair-raising, death defying aerial acrobatics seldom seen even in the shows of the most experienced circus performers.
A regular performance for Laura would include juggling flaming chainsaws, hanging high up in the air using colorful fabrics, and dancing inside her favourite human sized hamster ball.
Her shows are amazingly out of this world, ensuring every member of the audience is on the edge of their seat. This Juggler, Acrobat, and Aerialist likes to keep herself preoccupied with new stunts and acts that she thinks will satisfy the expectations of her audience. As a result, she has steadily built her fan base, not just in the USA but also worldwide.
Her achievements include winning 1st place at the 2008 World Juggling Federation and her audition being featured in America's Got Talent. She has also won numerous awards as a performer. A veteran of many international shows, Juggler, Acrobat Aerialist Laura is constantly busy with corporate entertainment shows, festivals shows, circus performances, and cruise entertainment.
Pocono Juggle Fest
Indianapolis Christmas Show
Carnival Cruises
Illumifest
Eastern Iowa Sports Show
Des Moines Social Club
Renville County Fair
Christian Jugglers Convention
Grand Falls Casino and Resort
Coralville Center for PErforming Arts