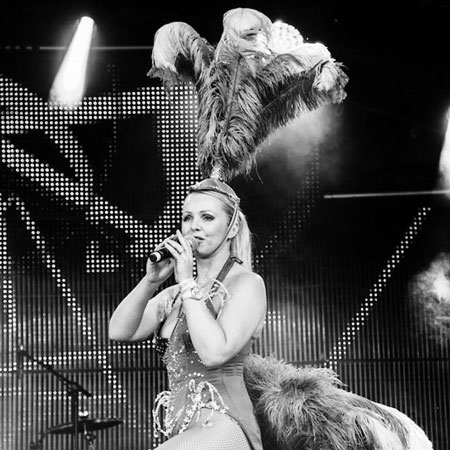 Kylie Tribute
Dazzle guests with one of the world's most sought after tribute shows
Incredible Kylie Minogue lookalike and soundalike will wow audiences
Quality live shows with authentic costumes, dances, & audience interaction
Ideal for parties, ceremonies, themed events, festivals & more
Based in the UK and available to perform at events worldwide
Guests at your special occasion won't be able to get our fantastic Kylie Minogue tribute out of their heads after she wows them with her incredible performance, inviting audiences to step back in time and relive all of the pop princess's greatest hits with her sensational show.
The highest-selling Australian artist of all time, Kylie Minogue is known around the world as the Goddess of Pop, with her most beloved hits including classics such as 'I Should Be So Lucky', 'Spinning Around', 'Especially For You' and 'All The Lovers'. Our brilliant lookalike and soundalike performs all these hit songs and more, and will amaze guests at your event with her spot on vocals, impressive dance moves, and dazzling array of replica costumes.
Always performing live in order to bring audiences an authentic Kylie concert experience, our talented tribute artist offers a variety of shows to suit the occasion. She can perform for anything from 20 minutes to 2 hours either solo or with everything from dancers and multiple costume changes to a full piece band and guest appearances from the likes of Kermit the Frog, Robbie Williams and Jason Donovan. Ideal for private parties, festivals, corporate functions, themed events, ceremonies, theatres and more, enquire today about booking our brilliant Kylie Minogue tribute.
Right Here Right Now
The Locomotion
Hand On Your Heart
Better The Devil You Know
Flower
Got To Be Certain
It's No Secret
I Wouldn't' Change A Thing
Je Ne Sais Pas Pour Quoi
Into The Blue
Please Stay
On A Night Like This
Can't Get You Out Of My Head
In Your Eyes
Love At First Sight
Put Yourself In My Place
Confide In Me
Tears On My Pillow
Two Hearts
Step Back In Time
Wow
I Was Gonna Cancel
In My Arms
Over The Rainbow
I Should Be So Lucky
Get Out Of My Way
Chocolate
Especially For You
Fever
The One
Better Than Today
Aphrodite
Come Into My World
Kids
Sexercise
Give Me Just A Little More Time
Dancing Queen
Shocked
What Do I Have To Do
Giving You Up
I Believe In You
Spinning Around
Your Disco Needs You
Timebomb
Red Blooded Woman
Never Too Late
Les Sex
Finer Feelings
All The Lovers